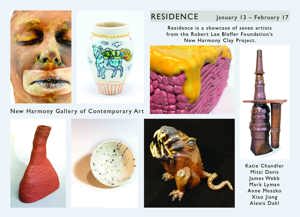 The New Harmony Gallery of Contemporary Art is hosting a ceramics exhibition, showcasing artists in residence at the New Harmony Clay Project, through Saturday, February 17. The exhibition is free and open to the public. A closing reception will be held at the gallery at 4 p.m. Saturday, February 17 prior to the Under the Beams concert featuring Daniel Hsu at 7:30 p.m.
The exhibition features a diverse set of styles and techniques in both functional and sculptural ceramics from seven resident artists. Artists included in the show are Katie Chandler, Alexis Dahl, Mitzi Davis, Xiao Jiang, Mark Lyman, Anne Meszko and James Webb.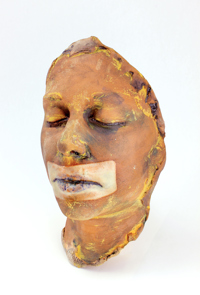 The residency is organized by Lenny Dowhie, University of Southern Indiana professor emeritus of art.
Chandler, a 2007 graduate of USI with a bachelor's degree in studio art, an emphasis in ceramics and a minor in art history, focused on the creation of a series of ceramic faces that explore expression.
"The New Harmony Clay Project is a great opportunity for artists who want to challenge themselves and explore new ideas and methods," said Chandler. "The peaceful setting of the town and studio creates an excellent work space."
Alexis Dahl, a 2015 USI graduate with a bachelor's degree in studio art, utilizes a variety of hand building techniques. Her creation of monsters represents the manifestation of the damage done to the ecosystem by human activity.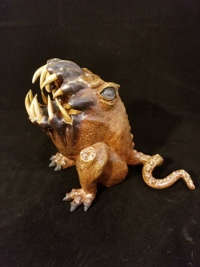 "I was able to create many new sculptures to include in my portfolio and meet other artists in my field," said Dahl. "I am thrilled I was chosen for this program. It is an experience I will never forget." 
Artist housing and studio space is sponsored by the Robert Lee Blaffer Foundation. Artists are able to utilize studio time in the Sarah Campbell Blaffer Ceramics studio, in the lawn adjacent to Philip Johnson's Roofless Church.
The New Harmony Gallery of Contemporary Art is an outreach partner of the University of Southern Indiana. The gallery is located at 506 Main Street in New Harmony, Indiana. Regular hours are 10 a.m. to 5 p.m. Tuesday through Saturday. For more information, contact Garry Holstein, director, at 812-682-3156 or go to www.usi.edu/nhgallery.