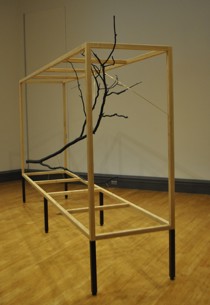 The McCutchan Art Center/Pace Galleries will present two exhibits, IF/THEN: Sarah Martin and The Chair, writ small, through Monday, February 19.  Sarah Martin, University of Southern Indiana Art and Design Department visiting studio artist for spring 2018, will give a lecture on her work at 6:30 pm Monday, February 19 in Kleymeyer Hall in the Liberal Arts Center on the USI campus.  There will be a closing reception for both exhibitions and their artists immediately following the lecture in the McCutchan Art Center/Pace Galleries.
Martin, assistant professor of art at Murray State University, specializes in woodworking, furniture design and sculpture.  She earned her Master of Fine Arts degree from the University of Massachusetts Dartmouth and a bachelor's degree from the University of Wisconsin-Madison. In addition to teaching at a number of institutions of higher education, Martin has participated in residencies at the Arrowmont School of Craft, the Penland School of Art, the Center for Craft, Creativity and Design, and San Diego State University.  Her artworks have been featured in exhibits throughout the U.S.
Martin's exhibit at the McCutchan Art Center /Pace Galleries is entitled, If/Then.  About the exhibit, Martin says, "There exists a universal impulse to make sense of the natural world. If/Then explores the desire for meaning in the random and the structures by which we create that meaning.  Using the framework of natural history museums, botanical specimens are re-contextualized and interpreted based on their physical characteristics. The conclusions drawn are not necessarily correct; parts do not go together, reconstructions are the work of subjective decision-making.  The resulting objects are not "true" then in the strictest sense, but have authority because of the way in which they are presented.  They are an acknowledgment of the mistakes we have made understanding our world throughout history, as well as a celebration of its stark beauty."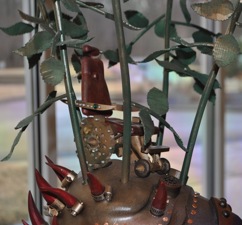 The Chair: writ small is an invitational exhibit featuring tiny chairs created by 13 artists: Clinton Bosler, Tylar Dean, Megan Elleser, Reagan Furqueron, Alex Greer, Katie Hudnall, John McNaughton, Rob Millard-Mendez, Tim Pewe, Nancy Raen-Mendez, Cory Robinson, Brian Simpson, and Curt Uebelhor.  The show represents a broad spectrum of interpretations of chairs, from realistic to abstract.  The invited artists have made work in a wide array of media and styles. The chair is an archetypal form.  Artists and designers have used the chair as a jumping off point for many different works.  This exhibition showcases intriguing, well-crafted works that are based on chair forms.  The invited artists have created thoughtful, conceptually rich works with a wide range of tones, from humorous to serious.  Millard-Mendez, professor of art at the University of Southern Indiana, curated the exhibit.
The Kenneth P. McCutchan Art Center/Palmina F. and Stephen S. Pace Galleries is located in the lower level of the Liberal Arts Center on the USI campus. The gallery is open from 10 a.m. to 4 p.m. Monday through Friday, and 1 to 5 p.m. Sunday. Admission is free and open to the public. Visit USI.edu/liberal-arts/art-center-galleries for more information.