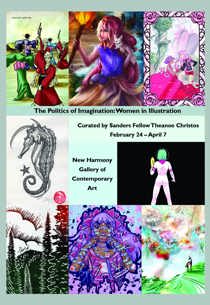 The New Harmony Gallery of Contemporary Art's latest exhibition, The Politics of Imagination: Women in Illustration, will be on display through Saturday, April 7. The exhibition is free and open to the public. A closing reception will be held at the gallery at 4 p.m. Saturday, March 10 prior to the Under the Beams concert, featuring Ranky Tanky at 7:30 p.m.
The exhibition, curated by, Theanoe Christos, the current James Sanders Gallery Fellow, features eight female illustrators with local, national and international backgrounds. Artists featured in the exhibition include: Pin Aw, Jasmin Garcia-Verdin, Kamilah Jones, Jenn St-Onge, Amy Wilke and three University of Southern Indiana graduates: Melissa Erwin '02, Heather Landry '03 and Stephanie Osborne '03.
"I believe in giving women in illustration the attention they are so deserving of, and putting together an exhibition of women can bring attention to the larger issue of media representation and its importance," said Christos.
In addition to the selected artists, Christos will display a comic strip called Utopia she designed documenting her experiences in New Harmony. Gallery visitors will have the opportunity to create their own illustrations that will be displayed throughout the exhibition.
"It is a refreshing and engaging experience to enjoy comics written by women, and my goal in this exhibition is to bring women and their stories to the forefront," said Christos.
The James Sanders Gallery Fellowship is a one-year fellowship designed to support students interested in exhibition design, publicity, curation, and art gallery management through supervised applied training. This exhibition is possible through the generous support of the Efroymson Family Fund, the Indiana Arts Commission and the National Endowment for the Arts.
The New Harmony Gallery of Contemporary Art is an outreach partner of the University of Southern Indiana. The gallery is located at 506 Main Street in New Harmony, Indiana. Regular hours are 10 a.m. to 5 p.m. Tuesday through Saturday. For more information, contact Garry Holstein, director, at 812-682-3156 or go to www.usi.edu/nhgallery.