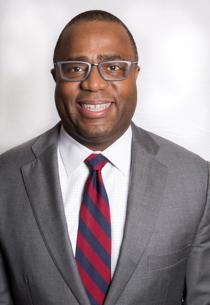 The University of Southern Indiana will hold a Commencement ceremony for undergraduate students in the Romain College of Business at 9 a.m. Saturday, April 28 in the Physical Activities Center (PAC) on the USI campus.
The 2018 Commencement speaker for the Romain College of Business is Marshall L. Byers. Byers graduated from USI in 1994 with a bachelor's degree in business administration with a concentration in finance and is enrolled in USI's Master of Business Administration online program with expected graduation in spring of 2019. He is currently the Private Client Advisor Vice President for Investments for J.P. Morgan Chase in Indianapolis.
Byers started his banking career with Key Bank in 2002. In 2006, he became a financial advisor for Key Investment Services where he provided comprehensive needs based on financial solutions to clients by offering a range of investment solutions. At J.P. Morgan Chase, he helps families solve complex financial problems, define investment goals, and implement and monitor investment and retirement plans. He is also a trainer and mentor for the bankers of Chase Private Client.
Byers is a U.S. Army Veteran having served in Central America and the Republic of Korea. He is a member of several service organizations including Phi Beta Sigma fraternity, Frontiers International – Indianapolis Chapter, and Business Ownership of Indiana where he is past chair. He and his wife, Moraa, and their daughter reside in Indianapolis.
Guests of the graduates will require a ticket to attend the ceremony. A reception for the graduates and their friends and families will follow the ceremony and will be held in University Center East.
Three other colleges at USI will conduct ceremonies on Saturday, April 28 according to this schedule:
College of Liberal Arts, noon
Pott College of Science, Engineering and Education, 3 p.m.
College of Nursing and Health Professions, 6 p.m.
A commencement ceremony for graduate students will be held at 6:30 p.m. Friday, April 27.
Live video of each ceremony will be streamed in University Center East Conference Center (Rooms 2217-2220). The ceremonies also may be viewed online at USI.edu/live-stream.