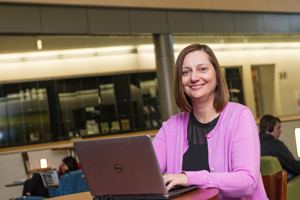 If you find yourself in the Registrar's Office, remember to congratulate Angel Nelson, assistant registrar, on her upcoming graduation! When making the decision to go back to school to get her Master in Business Administration (MBA), she found herself asking not whether she should get her degree, but if she had what it takes. She proved to friends, family, colleagues and, most importantly, to herself that she was capable of earning her degree. Angel is one of three assistant registrars, focusing on registration and study abroad transcripts.   
The ease and convenience of USI offering an online MBA program was the final push that persuaded Angel to further her education. She is no stranger to being a nontraditional student, but the concern of being able to keep up with younger students still loomed over her. Worried about the difficulty of the classes and the time commitment, she stepped up to the challenge and even discovered new interests. To her surprise, she found the economics and business law courses, which required extra attention, to be the most fascinating. 
Looking towards the future, Angel hopes to advance in her position at USI. She never wanted the lack of a master's degree to hinder her career advancement. 
She enjoys the uncertainty of what each day at USI entails and also working with the unbelievably supportive staff in the Registrar's Office. When she mentioned going back to school, her coworkers, Sandy Frank, registrar, and Linda Trible, associate registrar, encouraged her to see it through. Angel also had the support of her husband, Scott, and 8-year old son, Dylan, who also went through many schedule changes and frozen pizzas for dinner to ensure she had time to study and complete assignments. 
Even though the goal in completing her MBA was to learn more about business administration, she found the feeling of accomplishment and self-realization to be the most important aspects of obtaining a higher degree. She was able to step up to the challenge and prove to herself that she was strong, smart and courageous enough to accomplish what she started.  Her best advice for anyone wanting to further his or her education is to pursue it because what you will learn about yourself and how much you can accomplish will be worth it.
Written by University Communications intern, Alexis Tenbarge.