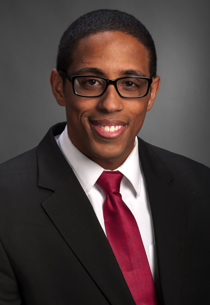 During the University of Southern Indiana College Of Liberal Arts Commencement Ceremony at noon Saturday, April 28, Virgilio E. Paulino will receive the President's Medal, the highest honor presented to a graduate in the Class of 2018.
Paulino graduates magna cum laude with a Bachelor of Arts in Political Science and Bachelor of Arts in Philosophy. An excellent student in the classroom, Paulino also is recognized for his compassion and dedication to service.While at USI, he has served in various capacities including Student Ambassadors, Lambda Chi Alpha, Spanish Club, Philosophy Club, Emerging Leaders, Student Government Association, National Society of Collegiate Scholars, and Pre-Law Club where he serves as president. As a member of the USI Honors Program, he has served as an honors mentor, and he is a member of USI's Political Science Honor Society.
His display of servant leadership has been most visible while serving as Resident Assistant for USI's Global Community Living Learning Community, a position he has held for three years. Outside of the classroom and his leadership roles, Paulino enjoys volunteering with the American Red Cross, Spruce Up USI and has served as a Spanish to English translator on a medical mission to the Dominican Republic.
He has worked on numerous projects, including the Dean's Advisory Council, USI Administrative Appeals Committee, and as a representative of the University student body during visits to campus by dignitaries and speakers, at the 2016 Indiana Gubernatorial Debate hosted on the USI campus, and during the Fuquay Welcome Center groundbreaking.
During his years at USI, Paulino has received many accolades including, Distinguished Sophomore Award, Ann and Matthew Hanka Political Science Scholarship, Provost Top Student Leader Award, USI Foundation Excellence in Learning Award, USI Philosophy Recognition Award, USI Political Science Club Award, Sherrianne Standley University Service Scholarship, and 2016-2017 Homecoming King.
Paulino is the son of Mercedes and Erion Babe of North Carolina. He has three brothers, Rafael, Nicholas, and Sebastian. After graduation, he plans to attend law school at Indiana University.
Other finalists for the President's Medal from the Class of 2018 included Angela M. DaCosta, Shannon E. Farrell, and Paige T. Spieth. The Student Affairs Committee of the Faculty Senate select the President's Medal recipient.