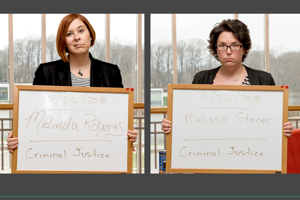 Statistics from the Indiana Department of Corrections show that of 36 percent of offenders released from prisons in Indiana will be behind bars again within three years. This has resulted in a growing interest in correctional facilities to provide evidence-based programming to reduce the number of re-offenses. Dr. Melinda Roberts and Dr. Melissa Stacer, associate professors of criminal justice, spent the last six years helping a non-profit organization called Churches Embracing Offenders (CEO) to gather quantitative and qualitative data and doing research to show the effectiveness of the programs they offer.
CEO is a faith-based diversion and reentry program in Evansville, Indiana, with a network of more than 120 churches of various denominations that provide mentoring to prisoners.
"I received a call at work from Paul Medcalf, a board member during that time, and he said 'I thought you might come down to this warehouse and see what we're doing with a bunch of ex-felons,'" said Roberts. "I said 'Sure, sounds great!'" Roberts volunteered to help the group by conducting research and providing statistics the group could use to report successes and to make improvements in their programming. Roberts invited Stacer to join the project soon after her arrival at USI.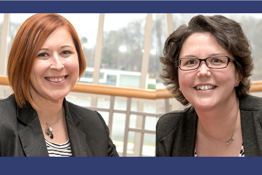 With funding assistance from USI's Center for Applied Research, the two were able to conduct quantitative and qualitative research centered on the CEO diversion and reentry program. They poured over files and conducted interviews with both ex-offenders and CEO mentors. "We wanted to know what factors distinguished between graduates of the program and people who didn't complete it," said Stacer. "We were also interested in factors that would predict graduation from the CEO program and, of those who did graduate, how many recidivated."
They found that CEO had a high rate of success with only a little more than 12 percent of those who completed the CEO courses being rearrested. They also discovered, throughout the study, that two overarching themes seemed to influence former felons to stay out of jail: having a mentor who cared about their success and well-being, and having someone to hold them accountable. "Having a positive person who was there to help and who they knew they could rely on made the most impact," said Roberts. "If they did something wrong, they felt inclined to admit it to their mentor. That accountability was one of the biggest reasons for the success rates."
Roberts and Stacer found examples of individuals so deeply impacted by the program that they continued to be involved with the group. Of the 13 interviews conducted, six of the graduates were still involved with CEO, three becoming mentors, two who taught courses and one volunteer. A couple of the interviewees were questioned both as an ex-offender and as a current mentor.
The contribution of time and energy from Roberts and Stacer not only benefited CEO, who didn't have the funding to complete the project on their own, but has also led to three published academic articles written by the pair covering their research and findings. The articles, two published in the Journal of Offender Rehabilitation and one in the Journal of Community Corrections, included findings about the program, as well as the interviews of graduates and mentors.