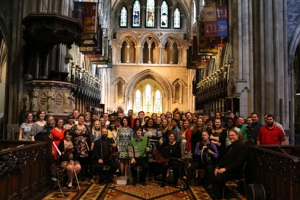 The University of Southern Indiana Women's Choir and Chamber Choir will perform in concert at 3 p.m. Sunday, April 29 at Old North United Methodist Church, 4201 Stringtown Rd., in Evansville. The concert is free and open to the public.
The groups will perform music by Poulenc, Monteverdi, Gallus, Rachmaninov and Busto. The Chamber Choir will also perform a suite of choral music in the Irish tradition arranged by Daniel Craig, USI associate professor of music and director of the Chamber Choir and Women's Choir.
This will be the last concert before the USI Chamber Choir departs on their 2018 Concert Tour to Ireland on May 20. In 2016, the Chamber Choir competed in the Mayo International Choral Festival in Castlebar, Ireland and was awarded first place in the Premiere Competition.
For more information, contact Craig at dcraig@usi.edu or 812-464-1736.