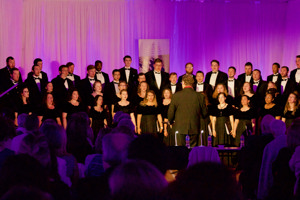 As part of its 2018 Ireland concert tour, the University of Southern Indiana Chamber Choir received first place in the Mayo International Choral Festival Premiere Competition in Ballina, Ballintubber and Castlebar, Co. Mayo, Ireland. 
The choir, under the direction of Daniel Craig, associate professor of music, competed in the festival's Sacred Music and Four-Part Choirs competition. They placed runner-up in the Sacred Music competition and won First Place in the Four-Part Competition. This win qualified the ensemble to compete in the premier competition where they won first place overall out of the 38 choirs participating. Judges for the competition included choir directors for the BBC, National Chamber Choir of Ireland, World Music Games and universities in Ireland and Norway.
Their program of music included works from Monteverdi, Gallus, Rachmaninov, as well as modern American composers and music in the Irish language arranged by Craig.  
This is the second time that the USI Chamber Choir has won the premier competition in this festival and only the second time for them to compete at this level. They previously competed in the festival in 2016, and participated in the Universitas Cantat festival in Poznan, Poland in 2017.
Prior to the festival, the choir performed a concert in Lisdoonvarna, Co. Clare to benefit the Stella Maris Adult Day Care, and ended their tour with a luncheon recital in Dublin's prestigious Christ Church Cathedral.