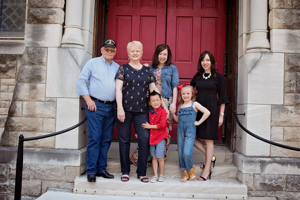 While USI Foundation celebrates its golden anniversary this year, they also celebrate a silver work anniversary for Ginny Bryant Norton, assistant director of development. She began her career at USI in 1993, and is quick to point out, in good humor, that she has been here nine months longer than David Bower, vice president for development and president of the USI Foundation. Bryant Norton has worked with all three USI presidents and has watched the staff grow from five employees to 15, and the Foundation assets grow from $3.8 million to $126 million. Her career has grown and evolved much like the changing landscape of the University itself.
Bryant Norton started as an administrative assistant working with the late Suzanne Nicholson, director emerita of USI Development. With her previous experience in customer service, she easily adapted those skills to donor relations. She says that building relationships has been the key for growing the number of scholarships they offer students. "When donors know you and you build a relationship, they want to give and will often come to you with a gift."
Bryant Norton later laid the groundwork for what would become a career shift for her after completing a bachelor's degree through Oakland City University at age 51. For a senior project, the class was asked to write a paper proposing a solution for a workplace problem. Seeing the need for increased scholarships as the University grew, Bryant Norton proposed a full-time position in the Development Office to focus solely on managing scholarships. Nicholson agreed and before long the imaginary solution to a school project began a new career for Bryant Norton. She continued to climb the ladder, and now serves as the assistant director of development, major gifts.
Her dedication to USI is further shown through her daily commute. Living in Norris City, Illinois, means a daily roundtrip drive of close to two hours, but Bryant Norton has found a way to use the drive time productively. She chats with her sister on her drive to work and entertains herself with audio books. Her love for her country property and loyalty to the University have made the travel worthwhile.
As the prospect of retirement looms in the next two or three years, she expressed her hopes and vision for the future of the USI Foundation. Along with a larger facility and more development officers, she hopes to see more departmental collaborations. "I'd like to see the Foundation be able to engage more friends and alumni who'll invest in the University," she said. "When the University grows and excels, the entire community benefits."
When she eventually retires, Bryant Norton says she'll continue her involvement in township government. For the last 31 years she has served as township clerk in her local community. She also looks forward to traveling, spending time with her grandchildren, gardening and landscaping.