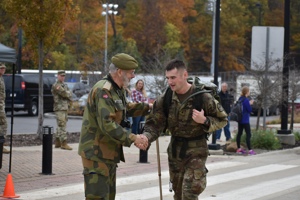 A University of Southern Indiana tradition is coming back to campus on Saturday, November 3, 2018.
The 17th annual Norwegian Foot March, an intense mental and physical challenge, will take participants 18.6 miles through the rolling hills of Evansville's west side. Carrying a 25-pound rucksack, participants will begin and end on the USI campus, working to make it back to the finish line in under four and a half hours.
"Having participated in the event multiple times myself, I know nearly everyone who participates is forced to dig deep and challenge themselves to finish," said Captain Adam Balbach, assistant professor of military science. "However, once participants finish, they have earned a great sense of accomplishment."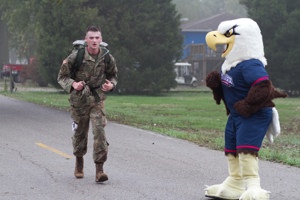 ROTC cadets, soldiers and veterans, as well as civilians, may register individually or as part of a four-member team. Registration can be completed online or by calling USI Outreach and Engagement at 812-464-1989. Early registration is recommended, as the event sells out quickly. ROTC cadets from any school can register for $25 and all other participants can register for $45. Registration will close on October 15 or when the event is full at 500 participants.
The Norwegian Foot March is sponsored by USI's Student Veteran Association. Proceeds from the foot march enhance the training of the students in the USI ROTC Program. Funds are used to cover costs associated with training, travel, team development and additional equipment.
Those who complete the march within set guidelines will receive a Norwegian Foot March certificate and pin, which can be worn on service uniforms. The Norwegian Foot March is a boot camp tradition for Norwegian soldiers and is supported by Dr. Nils Johansen, retired Norwegian Artillery Reserve Officer, retired USI University Division advisor and adjunct instructor of geology and physics.
For more information on the event, contact USI Outreach and Engagement at 812-464-1989 or outreach@usi.edu. Registration is now open at USI.edu/FootMarch.