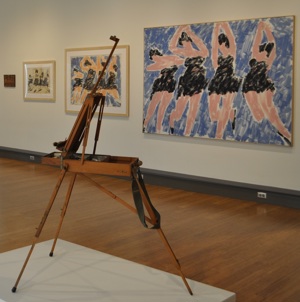 Stephen Pace: An Artist's Process, celebrating the 10th anniversary of the University of Southern Indiana McCutchan Art Center/Pace Galleries, will be on display through Monday, September 10 at the Art Center.  Stephen Pace (1918 – 2010) was an internationally recognized abstract expressionist and figurative painter.  Pace, along with his wife Palmina, was instrumental in the completion of the Art Center galleries, which opened to the public on September 7, 2008.
Over his long and prolific artistic life, Pace created a collection of works that were a visual account of his recollections and daily life. He captured and recreated series of memories and subjects, replicated in a variety of media including ink, oil, watercolor, and wood. This exhibition displays the series of related drawings, prints, paintings, and/or woodcut plates together to give the viewer deeper insight into Pace's artistic process. The exhibition also provides a timeline reflecting the influences that determined the trajectory of Pace's career and the development of his distinctive artistic style.  
All works in this exhibition are from the University's Art Collection.  USI's Pace holdings number 280 paintings, works on paper, woodcut and monoprint plates, and woodcarvings, currently the largest collection of Pace artworks at one institution.
Susan Colaricci Sauls M'16 and Roxanne 'Roxie' Burton '12 co-curated the exhibit. Sauls is art collection registrar and an instructor in the Arts & Heritage Administration Minor program at USI. She holds a bachelor's degree in art with associated studies of business from the University of Evansville and a master's degree in public administration with a non-profit emphasis from USI. Burton is the senior registrar at Ship/Art International, a fine art shipping and handling company located in the San Francisco Bay Area. She holds a master's degree in curatorial practice from California College of the Arts and a bachelor's degree in art history and studio art from USI.  When the original body of Pace artworks arrived on the USI campus in 2007, Sauls oversaw the organization and documentation of the artworks. Burton was her student intern at the time and worked closely with her on the Pace project.
There will be a 10th anniversary celebration and closing reception on Sunday, September 9 at 2 p.m. at the McCutchan Art Center/Pace Galleries. Sauls and Burton will be in attendance. Burton will also present a talk on the exhibit and her career as an arts administrator on Monday, September 10 at 6:15 p.m. in Kleymeyer Hall in the Liberal Arts Center on the USI campus.  Both events are free and the public is cordially invited to attend them.