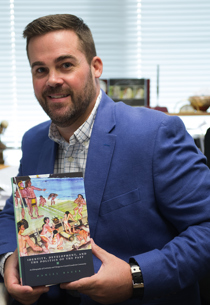 When an advisor makes a suggestion, make sure you take it seriously, because you may write a book about it in the future. Just ask associate professor of anthropology, Dr. Daniel Bauer. Bauer took the suggestion of an advisor to complete his dissertation research in Ecuador. Little did he know his experience in the South American country would lead to a published book.
Research for his Ecuadorian-based publication began in 2002. His book, Identity, Development, and Politics of the Past explores identity, archaeology and development in Salango, a rural Ecuadorian fishing village. Salango was only recently recognized as indigenous. Its villagers have worked to claim an Indigenous identity, based largely on archaeological records and their pre-Hispanic roots.
Bauer discovered how these villagers have been able to leverage their identity for developmental purposes. "It's my role to understand how people understand their own identity and how they, as I say, 'leverage' that identity to meet particular objectives and goals," said Bauer.
He combines both personal narrative and ethnography throughout his work to connect with multiple audiences. Personal narrative captures the attention of students, while ethnography draws the attention of scholars of Latin American studies, anthropology, ethnology, economic development and ethnic identity.
Bauer plans to incorporate  the book into future courses. Identity, Development, and Politics of the Past is available for purchase online.  
Written by Kaylee Johnson