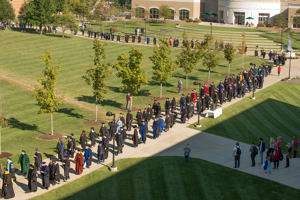 Bagpipes will be piping and faculty, decked in full regalia, will process across campus for the second annual Faculty Convocation on Friday, October 12. 
The Convocation will highlight and celebrate the accomplishments of USI faculty. "It recognizes the talent and expertise of our faculty and the considerable contributions they make to the personal and intellectual transformation of our students," said Dr. Mohammed Khayum, interim provost. "It is also an appreciation of the many ways that the professional accomplishments of the faculty advance and strengthen the reputation of USI." 
The Distinguished Professor Award, H. Lee Cooper Award, Sydney L. and Sadelle Berger Faculty Community Service Award, USI Outstanding Faculty Teaching Award and USI Outstanding Faculty Teaching by New Faculty Award will be announced. Newly-minted PhDs, newly tenured and promoted faculty, emeriti, and those who have served the University 25 years also will be recognized. 
A processional will start in the upper-level lobby of the USI Performance Center at 2:45 p.m. Faculty are encouraged to be lined up in the lobby by 2:30 p.m. The procession will cross campus ending in the University Center's Carter Hall. The ceremony will begin at 3 p.m. in Carter Hall, with an opening from Dr. Ronald Rochon, president, followed by a reflection from Dr. Kevin G. Celuch, professor of marketing and Blair Chair of Business Science. A reception with Hors d'oeuvres will follow in the University Center West Loft seating area. RSVP to confirm attendance and specify any dietary and/or disability-related accommodations you require. 
For more information contact Sheree Seib at sheree.seib@usi.edu or 812-461-5419.