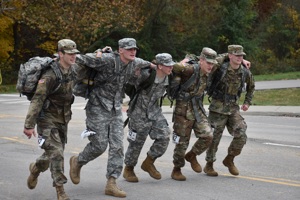 On Saturday, November 3, in anticipation of Veteran's Day, over 500 participants will take on a University of Southern Indiana Reserve Officers' Training Corps (ROTC) tradition. The Norwegian Foot March will host Cadets, military personnel, veterans and civilians from around the country who hope to finish the 18.6-mile race through the west side of Evansville in under 4.5 hours, all while carrying a 25-pound rucksack.
"It is incredible to watch the comradery between Cadets, Officers and even civilians during this physically demanding foot march," said USI Cadet Katlyn Winnecke.
Spectators are encouraged to cheer on the participants as they begin and cross the finish line. There is no cost to observe the march. At 7:30, 8:00 and 8:30 a.m., the start of each heat will be marked by the firing of a U.S. Army Howitzer. Each year, honored guests are invited to fire the Howitzer. This year's guests include Interim Provost, Dr. Mohammed Khayum, Director of Lifelong Learning, Dawn Stoneking and Instructor in Economics and Marketing, Timothy Mahoney.
Alongside other cadets, Winnecke experienced the opportunity of planning and executing this event. "I am honored to play a part in helping make the 17th annual Norwegian Foot March take place," said Winnecke. Student volunteers from USI's Nursing program will also be on-scene in case of emergency and for post-race care.
Cadets and service members who complete the race within the allotted amount of time will be awarded a certificate and badge depending on their number of completions. The Norwegian Foot March pin is authorized to wear on U.S. Military Uniforms.
In addition to the local race, two USI-facilitated events will take place internationally. Over 200 participants will take on the challenge in Fort Hood, Texas and over 50 participants, will compete at Soto Cano Air Base in Honduras.
IF YOU GO:
WHEN: Participants will check in and prepare for the race from 4:30 to 6:15 a.m. on Saturday, November 3, in the Recreation, Fitness and Wellness Center.
Three heats begin to depart between 7:30, 8:00 and 8:30 a.m., at the mark of the Howitzer canon. Participants will cross the finish line in a dramatic fashion, between 10:30 a.m. and 12:30 p.m.
A complete schedule of events: http://www.usi.edu/outreach/rotc/norwegian-foot-march/timeline
WHERE: The start and finish line is located in front of the Recreation and Fitness Center, at the corner of Bennett Lane and the beginning of the USI-Burdette trail. Perry Township Fire Department will be onsite with their American flag display as participants begin the race.
Exiting campus through parking lots D and E and onto the USI-Burdette trail, participants will travel the rolling hills of Evansville's west side, reach the Ohio River and return to campus through the USI soccer fields and outdoor basketball courts.
Local drivers should watch for participants crossing at Broadway Avenue, Nurrenbern Road and Schissler Road where officers will assist with traffic.
A map of the route is available online.
CONTACT: Captain Adam Balbach, 812-461-5304, awbalbach@usi.edu or visit USI.edu/FootMarch.
By Maria Scheller, Outreach and Engagement Content Marketing Assistant