College of Liberal Arts faculty to showcase research and creative work
College of Liberal Arts faculty to showcase research and creative work
10/8/2018 |
University Communications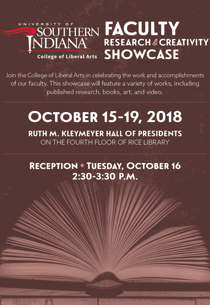 The University of Southern Indiana College of Liberal Arts will host the first Faculty Research and Creativity Showcase from October 15-19 in the Ruth M. Kleymeyer Hall of Presidents located on the fourth floor of the David L. Rice Library on the USI campus.
The showcase will be open to the public during the hours of 7:30 a.m. until 4:30 p.m., Monday through Friday of that week. A reception will be held at 2:30 p.m. on Tuesday, October 16 and light refreshments will be served.
Organizers hope to highlight Liberal Arts faculty accomplishments and contributions to their fields. This showcase which will feature a variety of works from Liberal Arts faculty, including published research, books, art and video.
For more information about the showcase, contact Kristina Arwood at kmarwood@usi.edu or 812-228-5193.