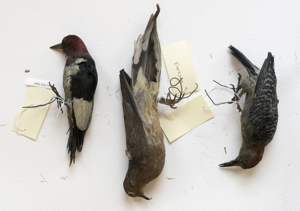 The New Harmony Gallery of Contemporary Art's current exhibition, Nature Morte by Betsy Stirratt, is free and open to the public through November 4.
"Nature Morte has provided an opportunity to temporarily relocate some of the natural history collection at the Working Men's Institute (WMI) to the New Harmony Gallery of Contemporary Art," said Stirratt.
Through documentation, selection and fabrication, Betsy Stirratt photographs, mounts and organizes images and objects that provide a new perspective through which to regard the natural elements of the museum.
"It is a chance to both reexamine these collections and to think about how we interpret art, artifacts and place. The introduction of natural history specimens within an art gallery context allows us to think about them differently, altering our understanding of their value and role in scientific study."
Betsy Stirratt is the founding director of the Grunwald Gallery of Art at Indiana University in Bloomington, Indiana. She has curated numerous exhibitions including [Re]Imagining Science, Feminine Persuasion, Personal: Selections from the Robert J. Shiffler Collection and Human Nature.
Established by philanthropist William Maclure in 1838, the WMI set its mission the dissemination of useful knowledge to those who work with their hands. The WMI in New Harmony was the first of 144 in Indiana and 16 in Illinois. It is the only one remaining.
"This collection and the archives tell an important part of the story of New Harmony, and reference the lives of people there, their interest in science and the value of place," said Stirratt "The contributions of the people of the area, and the fact that they were encouraged to bring specimens to the WMI for preservation, shows that the museum has an essential role to play in this unique community's sense of place."
The next exhibition, PLAY, will open on November 10 in conjunction with an open market initiative. The open market is a mini festival cosponsored by the New Harmony Gallery of Contemporary Art and the Mason Nordgauer Fine Arts Gallery. It will feature a mini market at McClure Square from 1 to 5 p.m. followed by a reception for PLAY at the Gallery and an after party at the Mason Nordgauer Gallery.
This exhibition is possible through the generous support of the Efroymson Family Fund, the Indiana Arts Commission and the National Endowment for the Arts.
The New Harmony Gallery of Contemporary Art is an outreach partner of the University of Southern Indiana. The gallery is located at 506 Main Street in New Harmony, Indiana. Regular hours are 10 a.m. to 5 p.m. Tuesday through Saturday and noon to 4 p.m. Sunday. For more information, contact Garry Holstein at 812-682-3156 or go to USI.edu/nhgallery.