USI choirs to hold 2018 fall concert
USI choirs to hold 2018 fall concert
10/26/2018 |
University Communications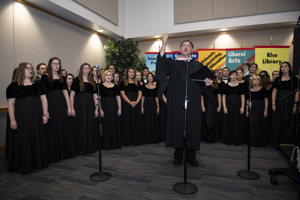 The University of Southern Indiana Women's Choir and Chamber Choir will present their fall concert at 3 p.m. Sunday, October 28 at 3:00 pm in the David L. Rice Library 2nd Floor Reading Room.  The concert is free and open to the public as space is available.
An eclectic repertory of music, including music by Claudio Monteverdi, Kenneth Jennings and Marek Raczynski, will be performed. Included will be music that incorporates tuned water glasses and Tibetan singing bowls.  
The concert will also two pieces from Daniel R. Craig, associate professor of music and conductor of USI choirs: a premiere of a setting of the text "For the Beauty of the Earth," and USI's newly-composed alma mater: "Constant, Faithful and True" featuring lyrics by Dr. David G. O'Neil, assistant professor of English, that was debuted at the 2018 Faculty Convocation.