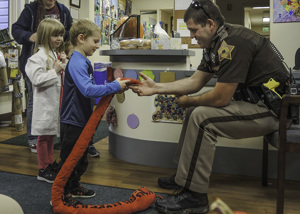 Clint Stanton grew up watching reruns of a television show where a sheriff looked out for everyone and everybody had each other's back. For a boy who roamed the 700 acres of his family's farm in Princeton, Indiana, he could relate, especially when the family geese—Bert and Ernie—welcomed him home at the end of a day's explorations.
Never dreaming he'd one day be a sheriff of such a community in real life, Stanton planned to study architecture in college, but a domestic incident with his sister inspired him to change his major to criminal justice. And it was the gentle wisdom of that television sheriff that influenced the kind of law enforcement officer he wanted to be.
Today's students are more apt to grow up watching more graphic police shows than those Stanton loved. Their view of police is different. As a sheriff at a larger university, he served a student population of nearly 22,000, along with 3,000 employees—an experience wrought with student behavior that left him a little jaded.
After the birth of their son, Stanton and his wife moved to Evansville, looking for a quieter existence and to be closer to family. The job at USI was fortuitous. "I would rather do education than enforcement. It's a lot easier to guide someone when they are at that gray area and everything is not black and white," he says. "Although some may lack discipline, they'll accept guidance, as long as you are authentic."
Whether it's passing out stickers at the USI Children's Center or attending a housing event on second shift, the University's five deputies are working hard to change the image of law enforcement at USI. Working with Public Safety they provide an extra layer of protection and safety to USI's more than 12,000 students and employees. As the primary law enforcement agency for USI, the VCSO is responsible for investigating all crimes, including infractions, misdemeanors and felonies that occur on campus.
Stanton jokes that being a big brother comes naturally, as he was the oldest boy in a family of seven. "I have my dad's lectures ready at all times. I talk about making better decisions, consequences—the whole nine yards."
Trained in crisis intervention, Stanton once spent hours talking to a girl who was having a bad night. "I talked to her for several hours while she was struggling. I gave her my card and told her she could talk to me any time she needed to," he says. "Later, she gave her card to a friend who needed to talk to someone too. This is why I love community policing. It's like family."