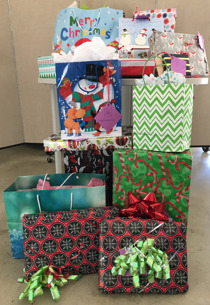 Every year Dr. Emilija Zlatkovska stops by the Admissions Office to choose a few ornaments from one of the University's Giving Trees. It's become a holiday tradition for the director of the Intensive English Program. "I get a couple for people, and then there's always one or two [ornaments] in terms of food and chocolate for international students," she explained.
This year, though, Zlatkovska walked in to find the tree bare. "When I got there, they were gone," she recalled about the ornaments. She was too late, and Staff Council member Michelle Herrmann says that's because the program is so popular. "After we get the first email out saying that the ornaments are available, usually within the first week they're all gone," she said. "People are calling asking if there's an ornament tree that has any ornaments left."
Herrmann is an administrative assistant in Teacher Education and the chair of Staff Council's Employee Relations Committee, the group that sponsors The Giving Tree. For almost 20 years, the program has provided gifts to USI faculty, staff and students and their children who need a little extra help around the holidays. This year, every one of the 145 ornaments hung from trees scattered across campus was taken, allowing 14 families and 12 international students who will be staying on campus over winter break to receive gifts.
Action figures, puzzles and coloring books were just a few of the items sorted and delivered this week wrapped and ready to go. "They [the recipients] are very, very appreciative. They know it helps them make their Christmas a little brighter," said Herrmann, who added that the number of gifts received by families varied, from three or four to close to 20. Staff Council aims to fill every request.
"I'm working so hard to finish my degree, and while I do work full time, the holidays can be extremely difficult when it comes to making ends meet, especially with four little ones," one Giving Tree recipient and USI student said. "I just can't thank those that made this happen enough, and I'm looking forward to one day being able to pay it forward." 
Which is why Emilija Zlatkovska will stop by the Admissions Office again next year. Just maybe a day or two sooner.