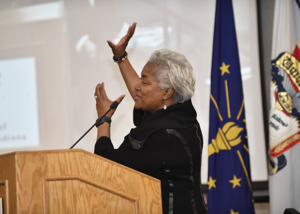 Close to 500 USI students, employees and community members filled Carter Hall and the University Center East Conference Center Monday to hear a passionate keynote address from political strategist, professor and author Donna Brazile during the University's annual Dr. Martin Luther King, Jr. Memorial Luncheon.
Brazile pointed out that USI was founded in 1965, the same year as the historic march from Selma to Montgomery, Alabama. She told the crowd that Dr. King's legacy remains stronger than ever because "it is now about us and our dedication and our commitment to freedom and justice for all people." She also referenced Dr. King's strong belief in education, calling for continued investment in education resources to honor his dream and legacy.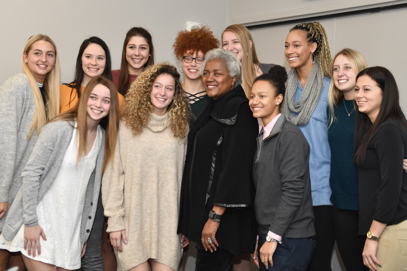 For those unable to attend the luncheon, here are some other highlights from Brazile's speech:
"Dr. King challenged us to keep moving, to keep going forward. And so today, we commit ourselves to that journey to building that more perfect union of love and community."


"Don't close a door, open a door. Don't think of obstacles, think of opportunity. That is Dr. King's legacy…We have to stop putting obstacles ahead of our opportunities, and that's what King day should be about."

"Dr. King believed that if you can't fly, then run; if you can't run, then walk; if you can't walk, then crawl; but whatever you do, keep moving, keep moving forward. We must always keep moving forward. There are days when it will not be easy, but it can be done. We can move forward."

"As Dr. King taught us, we should not judge success simply by the size of our salaries, but the quality of our service. If we do that, we can impede knowledge that all people are indeed created equal—not just in talent or in wealth, but in their inherent humanity."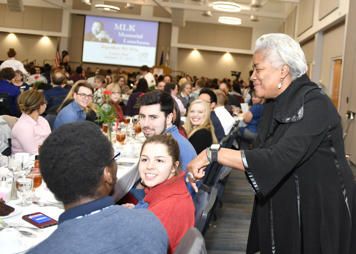 "Rooms like this today—we should be doing this every day. Diversity is not asking anyone to leave the room… just scoot over and make room for others."

"Be a blessing today to someone else. Bring Dr. King's dream not just back to your homes, or your place of worship, but bring Dr. King's dream to your work every day. Be the dream. Believe that you can be the change that Dr. King saw."
See more photos from the Dr. Martin Luther King, Jr. Memorial Luncheon featuring keynote speaker Donna Brazile.