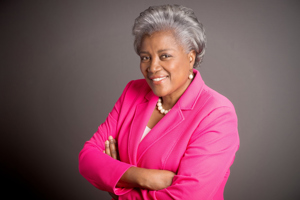 The Dr. Martin Luther King, Jr. Memorial Luncheon set for Monday, January 21 in USI's Carter Hall will be the largest in the event's 24-year history. Growing interest prompted Pamela Hopson, executive director of the USI Multicultural Center, and her team to do something they've never done before – offer a catered lunch to those attending in the event's overflow seating area. In the past, guests in the overflow section would come and go throughout the program, Hopson said, making it hard to track numbers.
This year, half of the Conference Center in University Center East will be open for overflow, providing 80 additional seats. Hopson says just over 10 of those seats remain available, bringing the luncheon's estimated attendance to an all-time high of around 460 people. "It excites us to no end that the community has embraced this event," she said.
Because of a tiered system, USI students and employees were able to buy tickets before the rest of the community. Hopson said all but a handful of the 392 seats in Carter Hall were filled before tickets opened to the public. Once tickets were made available to everyone, general seating quickly sold out.
"I don't know what sparked that excitement," said Hopson. "I don't know if it's the speaker that we're bringing, I don't know if it represents the culture of not only our community, but the culture of the United States at this juncture, I don't know if this speaker's footprint reaches so many of our USI majors… I don't know, but they did [buy tickets], and we welcome that." 
The keynote speaker Hopson refers to is veteran political strategist Donna Brazile, former Chair of the Democratic National Committee and a New York Times best-selling author. Brazile was the first African American woman to serve as the manager of a major party presidential campaign when she served in Vice President Al Gore's campaign in 2000. O, The Oprah Magazine chose Brazile as one of its 20 "remarkable visionaries" for the magazine's first-ever O Power List. In addition, she has been named among the 100 Most Powerful Women by Washingtonian magazine, Top 50 Women in America by Essence magazine and has received the Congressional Black Caucus Foundation's highest award for political achievement.
Brazile, who has been an adjunct professor at Georgetown University since 2002 and serves as the Gwendolyn S. and Colbert I. King Endowed Chair in Public Policy at Howard University, has lectured at over 200 colleges and universities across the country on such topics as "Inspiring Civility in American Politics," "Race Relations in the Age of Obama," "Why Diversity Matters," and "Women in American Politics." Read more about keynote speaker Donna Brazile.
Following the luncheon, Brazile will hold a book signing at 12:30 p.m. in The Loft (in the section near the international flags). At 1:15 p.m. she will conduct a Question and Answer session in the University Center East Conference Center. Both the book signing and Q & A are open to the campus community and the public on a first come, first served basis. Space is limited.

While its growth has proven a bit overwhelming, Hopson is thrilled that so many people want to attend the luncheon and help commemorate Dr. King. "We now have people that are reaching out to us, trying to see if they can be on the program. That speaks volumes for our institution," she said. "Every now and then we need to be energized about those things that we are passionate about or that really hit home, the things that matter to us. I'm hoping that this will reenergize that momentum for people to get out there and do those things that have a positive impact… in order to make our community a better community."
The few overflow tickets that remain for the Dr. Martin Luther King, Jr. Memorial Luncheon may be purchased through the USI website. Student tickets are $5, employee tickets are $10 and general tickets are $15. The luncheon begins at 11 a.m. in Carter Hall. Overflow seating (which includes the tickets that are available now) will be in the University Center East Conference Center where a live feed of the program will be shown.
For more information, contact the USI Multicultural Center at 812-465-7188 or at USI.edu/mcc.