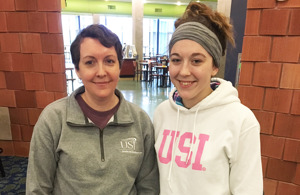 Melissa Burch enrolled at USI in 1988 and never left. Thirty years, three jobs and one (art) degree later, she's a veritable University encyclopedia. "All I know is USI," says the Housing and Residence Life administrative associate. "It's like family. She grew up here."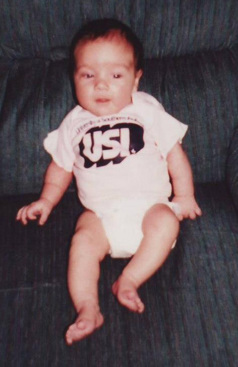 "She" is Susannah, Melissa's daughter, now just a year away from her own USI graduation. The pair share a love of concerts (they've seen Ed Sheeran together four times), dry humor and their two cats, Lucy, a brown tabby, and Cookie, a dilute calico, both adopted from the Vanderburgh Humane Society. 
In many ways, though, this mother-daughter duo could not be more different. One has mastered the art of cooking, one lives on boxed mac and cheese and SpaghettiOs. One savors spontaneity, the other relishes routine. One is preparing for a cruise, the other can't wait to replenish her stockpile of vacation days. 
Think you know who is who? Let's find out as we get to know Melissa Burch and her daughter, Susannah Jackson.
The influence of role models is a major focus at USI right now. As a student here, who are or were your role models?
M: "When I was a student, since I worked in the administration building, I was around Sherrianne Standley a lot. She was one of the vice presidents, and eventually when I worked in the Alumni Office, that was an office that reported directly to her. But I learned a lot from her, just about the importance of taking pride in your work and quality, and doing it right, always doing the right thing. It was very important that everything we produced was accurate, and that when we were working with anybody from outside of the University, that you were doing everything to present the University in a good way."
S: "I guess for me it would be my fellow students. I see them succeeding, and I want to be that good. I'm in a sorority (Alpha Sigma Tau), and I see a lot of my sorority sisters getting better grades than me, and it makes me want to study harder because I want to get good grades and I want to be as successful as them."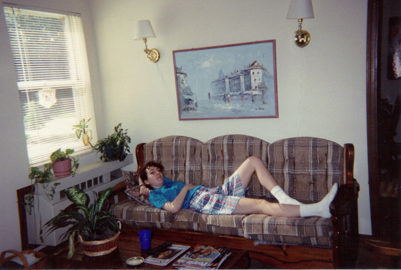 What do you listen to on your way to campus?
S: "I just listen to HOT 96. But it's a very short drive, so I don't really have to put anything on. I'm here in five minutes."
M: "Lately I've just been listening to whatever playlist I have on my phone, which is a lot of '80s music."
Do you have a morning routine?
M: I'm very much a routine person. I always get up at 5:30 a.m., feed the cats, then take my shower, have coffee, eat breakfast, get ready, go to work, park in the same spot. Don't ever park in my spot! I'm just very structured, a planner. I'm not good at being spontaneous. She's opposite of me."
What's your best advice for a student to succeed living away from home for the first time?
M: "Don't go to Mom and Dad. Honestly, they need to figure it out for themselves. This campus has so many resources, and there is always somebody that's going to be willing to help. And it's so easy to find the resources. Just the website alone – USI's website is done very well. I think if students would just get on there, they would find a lot of information. I know they would for housing."
Do you have any hobbies?
S: "I just work all the time. I work here on campus (as a student manager in the UC), and then I have an off-campus job, too (on the management team at Carter's in the mall). I like to read, but I really like to sleep. I like to travel. One of my majors is international studies. I'm going to Mexico next month.
M: Crochet. I started doing that a few years ago. Mom did it for years, and she taught me when I was a kid. I hadn't done it for 30 years, and one winter break I just decided to start again – and thank goodness for YouTube. I had forgotten how to do a lot of it. I just do that as a stress reliever in the evenings.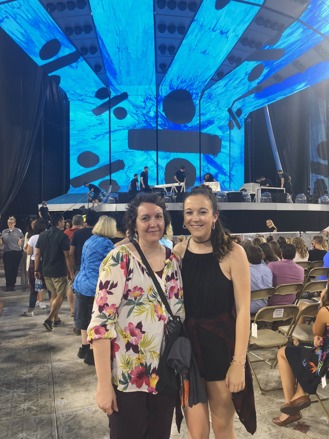 What is your favorite meal to eat, either homemade or at a restaurant?
M: "If I had a favorite meal, it'd probably be my mom's roast. We've tried. None of us has been able to successfully cook it the way she did. She just cooked it in a skillet, floured it, salt, pepper. It always has a little bit of juice and gravy that made itself. We all like it, and we always used to make her make it when we would go home. It was the requirement. Maybe because it was also a comfort food, and we only got it when we would go see Mom."
S: "I like the potato soup she (Melissa) makes because it's not like normal potato soup. When you go to restaurants, it's always yellow and cheesy. I don't know what's in it. There are eggs, and it's white. It's good. It sounds gross, but it's so good. It's honestly my favorite thing."
You've got a free day with no plans and an unlimited budget. What do you do?
M: "This is where I have issues. I don't ever take vacation. I usually lose vacation time because I don't take it. I would probably clean my house. I would stay home and clean. I wouldn't do anything big."
S: "I have a money problem, so unlimited budget, that's appealing. I would definitely sleep in. I would try to clean my apartment because I always say I'm going to when I have some time, but I think I would need a full day for that. I might take a trip somewhere. Nashville would be fun. We like to go to Nashville."
Who should the USI community get to know next? Submit a nomination by completing this brief form!