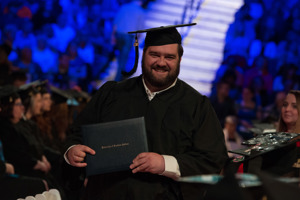 If you've ever sent an email to Tim Bennett, chances are he still has it, carefully tucked away in a folder bearing your name. (A "quick count" from 2018 revealed 320 folders.) The newly promoted manager of special events relies heavily on Outlook to keep hundreds of campus happenings running smoothly each semester. But he's also equipped with another tool that makes his job, and those of many others, easier: the ability to remain calm – and friendly—in stressful situations.   
Bennett's positive outlook helped him navigate a tricky and lengthy path to his undergraduate degree, which he earned from USI in April 2018. He credits a Philosophy of Religion class for changing his direction, challenging his critical thinking skills and, ultimately, leading him to the academic finish line he wasn't always sure he'd reach, 16 years after first enrolling in college. "I think philosophy--obviously I'm biased--but I think it's the best degree you can get," he says with a laugh.
When he's not troubleshooting or answering questions on the second floor of University Center West ("Does Indiana have scorpions, poisonous spiders or poisonous snakes?" is the strangest so far), Bennett loves to escape to the disc golf course, USI-Burdette Trail or a concert. Paul McCartney in Detroit with his dad about 10 years ago tops his list.
As he transitions into his new role in Special Events and Scheduling Services, Bennett leaves behind more than his old title (senior event services assistant). He's moving into an office – meaning he'll no longer be the first friendly face students, employees and visitors see when they climb the steps of the UC. But don't worry, he's bringing along the mindset that's served him well so far: attitude really is everything.
Let's get to know Tim.
---
How do you find your calm in the middle of all the chaos that can come with special events?
Smiling, being friendly, joking with people. As long as you remain friendly and happy, even the most stressed out people will lighten up. Things go wrong sometimes during conferences, and as long as you approach it gently and with a smile, usually people are pretty forgiving. If you just don't get caught up in the stress. Just be calm and be happy. I genuinely love doing the support, so it's really not hard--it's just there. It's my happy space.
Do your friends and family rely on you to plan events and functions at home?
My fiancé and I, we were planning to get married in the summer of 2019. There's a lot that goes into a wedding and all the planning, and eventually I kept asking him, "Do you want to do this?" "No." "Do you want to do this?" "No." And then, finally, "Do you just want to go to the courthouse and get married tomorrow?" And he said, "Yes." So, we cancelled all the plans that I had been planning and we just went and got married on my lunch break. I came back into the office, and they asked, "Where have you been?" I was like, "Sorry, I got held up. We were getting married, and it took longer than I thought."
Usually, in my personal life, I like to just roll with it. We don't really plan out a whole lot, we just go, see what happens.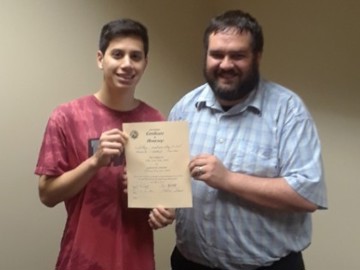 What did marriage change for you?
It changed everything, honestly. Just having another person to go through life with is amazing. Another thing I love about USI is this is where I felt comfortable enough after 29 years to finally come out and say, I'm bisexual, and just open myself up and be who I am. And not long after opening myself up like that, I found someone who was interested in me… We do everything together, so it's fantastic.
We both love music, so we go to a lot of concerts together. We like to travel. Just recently we've been in Chicago to see Alison Wonderland. Next month we're going to go see Guster. We were in St. Louis last month for a concert, so we travel a lot to go see our shows. We listen to music together almost nightly. 
Where did that love of music come from?
My dad for sure. He was a big fan of The Beatles and Harry Chapin, so '60s music I love, '70s music I love, from him. He just raised me loving music. Unfortunately, he never raised me to play any instruments. I've tried every single instrument, and I just give up. I do not have the patience to sit there and learn keys and scales. It's just not for me.
I think when I was like 5 or 6, I could play Twinkle Twinkle Little Star on the piano, but that's about as far as I made it with any instrument.
You took a pretty non-traditional college path, starting in 2002 and finishing in 2018. Take me along that journey.  
I went to Memorial High School, and I loved school, loved everything about it, but I was not prepared for the massive amount of people that would be at Purdue when I went there. I went from classes at Memorial of 20 to 30 people, to classes at Purdue of 450 people. The amount of people and the freedom and all that, I just wasn't really prepared for it, and so I left Purdue. I tried coming back to USI right after Purdue, and I was kind of over it then, so I started working at CVS for several years. I worked at CVS for seven or eight years, and then there was a point when I was talking with my dad and had enough money saved up to go back to school. It was something I really wanted to do, and so I went part time at CVS, came back to USI and just slowly worked my way through.
I was a psychology major here for maybe a year or two, and I took a philosophy class, it was Philosophy of Religion with Dr. Garret Merriam, and it blew my mind. I loved it, and I wanted to take another philosophy class, and then, after my second philosophy class, I knew that's where I wanted to go.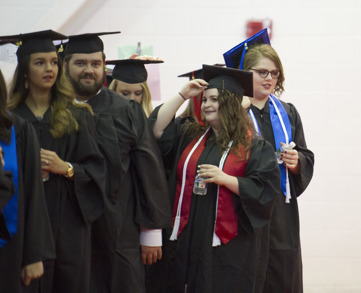 What was it like to get the diploma?
It was amazing. It was great because I had worked commencements four or five years in a row… and then finally I got to actually enjoy one where I got to walk across the stage and all that. So, it was kind of weird not being in the red vest and actually sitting on the floor.
What do you think you learned from all the time off in between, about yourself?
I gained a whole lot of respect for people who do work in the service industry, having been there for so long, because that's a tough way to make money. It can be really stressful, especially during the holidays and all that. I also learned that I used to think you had to have a college education, it was something you had to do. And that's not the case. You should only do college when you are ready for it. And I learned that the hard way. I tried to go back a couple times, and I was not ready for it. I just had to mature quite a bit before I could finally get into it.
---
Bennett worked his first Commencement as a USI alumnus in December and says knowing how the graduates were feeling added to the happiness and joy of the event. While he has no plans to head back to class any time soon, he is excited to see his husband work toward his USI degree beginning this summer.
Know someone who the University community should get to know? Submit a nomination!