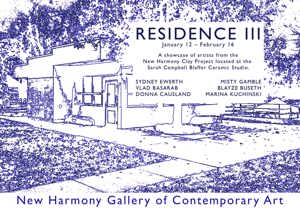 The New Harmony Gallery of Contemporary Art is hosting a ceramics exhibition, showcasing artists in residence at the New Harmony Clay Project, through Saturday, February 16. The exhibition is free and open to the public. 
The exhibition features a diverse set of styles and techniques in both functional and sculptural ceramics from six resident artists who participated in the project in 2018. Artists included in the show are Vlad Basarab, Blaze Buseth, Donna Causland, Sydney Ewerth, Misty Gamble and Marina Kuchinski. For more information about the program and the resident artists, visit the program website at https://nhclayproject.org/
This activity is made possible, in part, with support from the Efroymson Family Fund, the Indiana Arts Commission and the National Endowment for the Arts, a federal agency.
The New Harmony Gallery of Contemporary Art is an outreach partner of the University of Southern Indiana. The gallery is located at 506 Main Street in New Harmony, Indiana. Regular hours are 10 a.m. to 5 p.m. Tuesday through Saturday. For more information, contact Garry Holstein at 812-682-3156 or go to www.usi.edu/nhgallery.