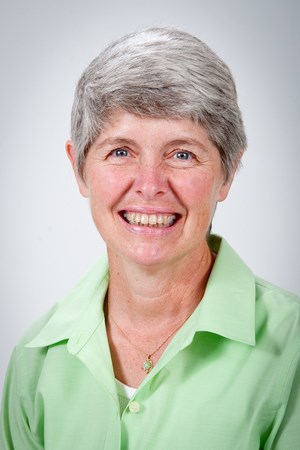 Kim Schauss's ability to recognize and prevent potential problems prompted an interesting comparison from Dr. Kent Scheller, professor of physics. She "is the 'Radar' O'Reilly (M*A*S*H) of the University of Southern Indiana Chemistry, Geology and Physics departments," Scheller says. "As an administrative assistant, it is one thing to do the things asked of you, but Kim goes above and beyond and does things for you before you even know you need them done," Scheller explains. 
Schauss and her intuition arrived on the USI campus nearly 17 years ago. She spent her first five years in the Registrar's Office before moving to the Pott College of Science, Engineering, and Education. "I was able to compile a lot of background information about the University and see how things worked on the back side," Schauss recalls. "It was a great place to learn about USI and work."
Some of Schauss's day-to-day responsibilities include greeting students, filling classes for upcoming terms, ordering department supplies and making sure faculty and student schedules don't conflict—all skills she's been developing since her first administrative job in the University of Evansville Admissions Office when she was 18. "I have always enjoyed being an administrative assistant," she says. "It allows me freedom to travel on vacation and to meet interesting people at work and in day-to-day interactions off the job, too."
With a wealth of experience, a deep commitment to success and those impressive instincts, Scheller knows Kim "Radar" Schauss will keep USI's Chemistry, Geology and Physics departments on the right track. "The department will lose more when she leaves than when I leave," Scheller says.
Thankfully, neither are going anywhere any time soon.
Fast Facts about Kim Schauss
Earned approximately 100 credits from the University of Southern Indiana and the University of Evansville in a variety of subjects
Enjoys traveling and has been to the top of the Eiffel Tower, walked across the Golden Gate Bridge and walked across the Rainbow Bridge between Canada and the United States
Enjoys going to the movies
Attended Armstrong Elementary School, one of the last schools in the EVSC to house two grades in one classroom
One of 12 (eight girls, four boys) in her 8th grade graduating class
Recipient of the first Support Staff Performance Recognition Award in 2007 
Submit your own Screagle Pride Shout Out. Please include as much detailed information about the person you are nominating as possible.