Spring Meeting recap: important University dates and updates
Spring Meeting recap: important University dates and updates
1/4/2019 |
University Communications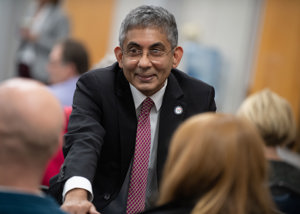 University leaders, including Provost Mohammed Khayum and President Ronald Rochon, briefed faculty and staff on several topics at the annual Spring Faculty and Administrative Staff Meeting held in Carter Hall on January 2.
Work continues on the new Screaming Eagles Arena. Chairs are now being installed and Phase I of the Arena's construction is expected to be completed this spring. Once completed, Phase II of construction will begin including faculty and staff offices, classroom and academic space for Kinesiology and Sport and the new aquatic center.


Mark your calendar for significant events on campus this spring including a moderated discussion with General Colin L. Powell, USA (Ret.) on Thursday, April 4, 2019. President Rochon will serve as moderator for the event, "Leadership: Taking Charge," which begins at 6 p.m. and is free and open to the public. The event is presented by the Romain College of Business.


President Rochon's Inauguration will take place the following day, Friday, April 5, 2019. More details about the Inauguration will be announced in the coming weeks. David Bower, vice president for development and president of the USI Foundation, is serving as the chair of the Inauguration Committee.


The Fall Faculty and Administrative Staff Meeting is expected to be held in the Screaming Eagles Arena. A date has not yet been announced. President Rochon announced that he hopes to make this meeting inclusive of all faculty and staff at the University and eliminate the need for two fall meetings.


Renovations are progressing on the third floor of the Health Professions Center. Classrooms are expected to be completed by Spring Break. An open house will be held for members of the University community when work nears completion.


A search for the new dean of the Romain College of Business is underway with a diverse search committee currently being formed.


The UNITE CubeSAT, a small research satellite designed and built by USI undergraduate students, was successfully launched from Cape Canaveral on December 5, 2018. It will become the first deployed satellite created by an Indiana higher education institution when it is launched from the International Space Station this spring. Read more about UNITE CubeSAT.


The USI Chamber Choir will perform at Carnegie Hall in New York City in May.


The University is roughly at the midway point of its current strategic plan which began in 2016. Faculty and staff who have been asked to provide updates on strategic plan initiatives should expect to receive further information in the coming weeks.


Interested faculty and staff members are encouraged to learn more about Staff Council, Administrative Senate and Faculty Senate and consider becoming involved with their respective organization.