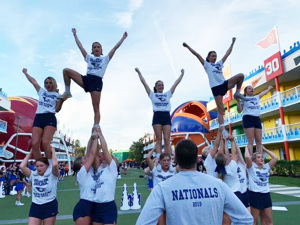 Kaylee Johnson is a junior at USI and a student worker in University Communications. She is also a member of USI's Cheer Team which competed at the 2019 UCA & UDA College Cheerleading & Dance Team National Championship at ESPN's Wide World of Sports in Orlando, Florida on January 19. Johnson explains what it was like to perform alongside some of the best teams in the nation and looks back at the months of practice that went in to preparing for the competition.
January 19 seems far away in October, but that's when our team started preparing the two-and-a-half-minute routine that would eventually bring us to nationals in Orlando. Three days a week until the end of the fall semester, we practiced building strong, stable stunts, setting counts to keep our team of 16 in perfect unison and building formations for each part of the routine. I couldn't even begin to explain how many times I heard our eight-count music in my head while trying to fall asleep at night – I'm not sure I could ever forget it.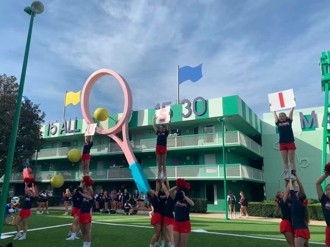 With the fall semester behind us, nationals prep work really picked up over Winter Break; we practiced twice a day (for two hours) for 15 days. We focused on seamlessly connecting all nine sections of the routine, the endless repetition of stunts and tumbling, and perfecting overall technique. College cheerleading really focuses on crisp and clean stunts and tumbling, so there isn't much room for fluff (think exaggerated facial expressions, extremely difficult stunts and pyramids, etc.). It's vital that our routine looks sharp and put-together, not extravagant and over-the-top. Over Winter Break alone, the team put in an estimated 60 hours of work, in addition to practicing and performing at several women's and men's basketball games.
There were days when we weren't able to hit a clean stunt for anything. We would constantly push ourselves to our limits and quickly realize that overexertion wasn't the solution. We needed to step away from that bad practice and make sure we made the next one 10 times better. At other practices, we would hit our entire routine effortlessly and not even break a sweat. I've learned over the years that cheerleading is a lot more mental than a lot of people may think. You have to constantly remind yourself that you are, indeed, capable of making it through a high-intensity, two-and-half-minute routine full of lifting over 100 pounds and throwing your body upside down. This year, the team was definitely physically ready to perform, but we all had to believe that we could hit the routine perfectly.  
In the months leading up to nationals, it was sometimes hard to see the light at the end of the tunnel. It's hard to give up time with your friends and family, especially during the holiday season, and practice weeks in a row with no breaks. But when we stepped on the mat at ESPN's Wide World of Sports, the light we struggled to see over break was shining in clear sight.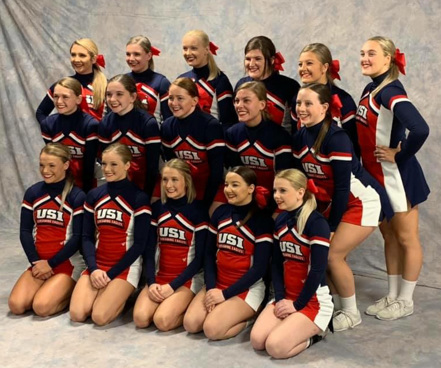 The UCA & UDA College Cheerleading & Dance Team National Championship features four categories of competition. USI competed in the DI All Girl Division which included 17 teams from across the country. After posing for official photos and getting in a last-minute pep-talk from our head coach, Shane Wycoff, our team took the nationals mat in the preliminary round of the competition Saturday afternoon and performed a primarily clean routine—with just a slight stunt mistake and what's called a "touchdown" in a tumbling pass. (That means one of our athlete's touched the ground with a body part besides her feet after completing the pass.)
We nervously waited to find out if we were one of the nine teams advancing to the final round of the competition. We knew we performed a pretty strong routine, but we also knew we could have performed it a lot better. USI was called last when the judges were announcing which teams advanced to finals—talk about nerve-wracking! Our two seniors had happy tears and were so relieved that our first performance of the day made the cut for the final round of competition that evening.  
When it came time for the final round, we reminded each other that this would be the last time we would ever perform this routine which we had been working on nonstop since October. We were determined to leave every last ounce of energy we had out on that nationals mat. We performed our final routine nearly flawlessly. There was a slight bobble in our first round of stunts, but besides that, we knew we had performed to our highest potential.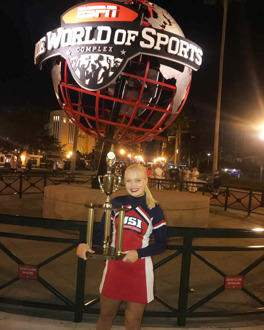 The USI Cheer Team ended up with a 6th-place finish, and we could not have been more satisfied with our placement. We earned not only a sizable trophy, but also a strong sense of pride and confirmation that our months of hard work and dedication—and our literal blood, sweat and tears—had finally paid off.
Stepping onto that mat at UCA Nationals gives you the good kind of goosebumps year after year—the kind that get your adrenaline pumping and your heart in the competition. It's a feeling that's hard to put into words, but one I wouldn't change for the world.  
***
Watch the USI Cheer Team's final performance at the 2019 UCA & UDA College Cheerleading & Dance Team National Championship.