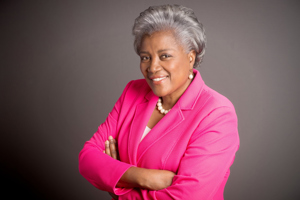 She thought it might happen, and it did. Pamela Hopson, executive director of the USI Multicultural Center, says the Dr. Martin Luther King, Jr. Memorial Luncheon on Monday, January 21, is officially sold out.
Between Carter Hall and overflow space in the University Center East Conference Center, 472 seats are accounted for. Unlike years past, the 80 people who will watch a live feed of the program from the conference center will be served a catered lunch.
There is one, final option for those interested in participating in the event who do not have tickets. Hopson says a live feed will also air in the section of the UC East Conference Center that will be used for a post luncheon Q & A session with keynote speaker and veteran political strategist Donna Brazile. It will be set up theatre style, and no food will be served in that area.
The luncheon begins at 11 a.m. Following the program, Brazile will hold a book signing at 12:30 p.m. in The Loft in the section near the international flags. At 1:15 p.m. she will take questions in the University Center East Conference Center. Both the book signing and Q & A are open to the campus community and the public on a first come, first served basis. Space is limited.
Brazile's three books, "Hacks: The Inside Story of the Break-ins and Breakdowns That Put Donald Trump in the White House," "For Colored Girls Who Have Considered Politics," and "Cooking with Grease: Stirring the Pots in America" will be available for purchase at the event.
As a reminder, both the Upper and Lower Pay Lots on campus are reserved for the luncheon. All non-ADA spaces will be needed for the event.