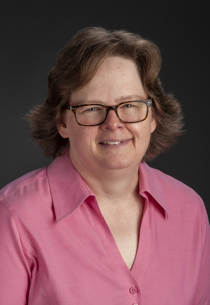 Jane Friona, MHSA, executive director of Southwest Indiana Area Health Education Center (AHEC), has been named the recipient of the 2019 Behind the Scenes Award from the Emergency Nurses Association (ENA). This national award recognizes an individual who has made significant contributions to promote ENA's mission of advocating for patient safety and excellence in emergency nursing practice. Friona will receive the award October 1, 2019, during the Emergency Nursing 2019 conference in Austin, Texas.
"As the executive director of the Southwest Indiana AHEC, Jane has an excellent understanding of rural health care in Indiana, as well as the professional development needs of health care professionals," said Dr. Ann White, dean of the College of Nursing and Health Professions at the University of Southern Indiana, which serves as host for Southwest Indiana AHEC. "Under her leadership, USI's annual Sexual Assault Nurse Examiner (SANE) training has expanded to ensure nurses working in rural and/or underserved communities in Indiana are offered the education and clinical trainings necessary to care for victims of sexual assault."
Southwest Indiana AHEC has offered a five-day SANE course for the past four years at USI – an area of Indiana that had not hosted a training since 2006. Friona coordinated with the regional sexual assault response team (SART) to design the training, and volunteer instructors from the region include county prosecutors, Indiana State Police Crime Lab technicians, victim advocates, law enforcement, a forensic interviewer, and other content experts.
This collaboration provided the foundation for Friona and her team of community partners to apply for federal funding from the Health Resources and Services Administration (HRSA). In Fall 2018, Southwest Indiana AHEC received a three-year grant from HRSA worth more than $1 million to implement the Indiana SANE Training Project with the goal of expanding professional development opportunities for SANE nurses practicing in rural and/or underserved communities in Indiana. Friona, who wrote the bulk of the grant narrative and led the extensive application process, currently serves as the primary investigator for the Indiana SANE Training Project. As part of the project, nurses can apply for financial assistance for training, professional development opportunities and SANE certification and re-certification fees.
In December 2018, Friona received the statewide Behind the Scenes Award from the Indiana State Council of the ENA at its meeting in Indianapolis. Barbra A. Bachmeier, an advanced practice/forensic nurse from IU Health Methodist Hospital in Indianapolis, said Friona is deserving of both the state and national honors.
"Jane was instrumental in getting the HRSA grant, worth more than $1 million, for the state SANE project. This is huge for Indiana. What this means for nurses is that we are able to provide Sexual Assault Nurse Examiner training to any nurse in Indiana who wants to be a forensic nurse," said Bachmeier. "This is a rural state, so there are areas in Indiana where you are unable to receive a medical forensic exam. Because of the grant, we have doubled the number of didactic and clinical trainings for nurses. Now, more patients do not have to travel for several hours to receive medical forensic exams after a sexual assault – they are able to receive care in their communities."
Friona earned a bachelor's degree in marketing from the University of Indianapolis, Indianapolis, Indiana, and a master of health services administration from Arizona State University in Tempe, Arizona. She worked as a grant writer and special projects coordinator at USI for four years before taking the helm of Southwest Indiana AHEC in January 2012.
Email Jane Friona at jefriona@usi.edu to be involved with the Indiana SANE Training Project or for more information.