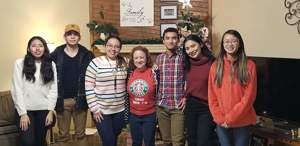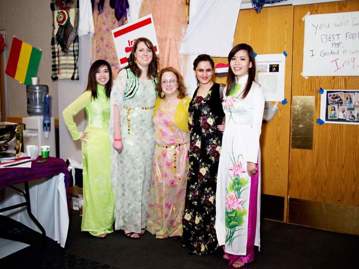 Barb Goodwin, senior administrative associate for Photography and Multimedia, has two daughters: Emma, an eighth grader, and Molly, a senior at USI. But over the past eight years, she's become a second mom to 20 other Screaming Eagles—from all over the world. "They had a group of students from Iraq come here … and I met those kids, and I thought they were so great," says Goodwin. "And when they left, it was like something colorful left my life, and I really missed being around international kids."
Despite some nerves and uncertainty about the time commitment and emotional investment, she decided to join USI's Host Friendship Program. It pairs University employees and supporters with international students and encourages them to spend time together on campus or in the community. "The level of involvement is really varied," explains Heidi Gregori-Gahan, associate provost for International Programs and Services. "It doesn't have to be every week that they get together. Maybe it's once a month, or it could even be just once a semester, as long as there is some type of contact and meaningful interaction."
The first student Goodwin met through the program, a young woman from South Korea, clearly felt a connection. "When I would see her out on campus she would scream, 'Mama!' all the way across The Quad," she recalls. "She was really excited about meeting a family and having a family away from home."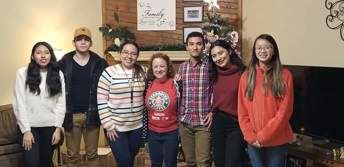 Though it's not required, Goodwin invites international students to not only meet her family, but also share meals and holidays with them. "I had a bunch of kids over around Christmas, and we just played Xbox, and we ate food," she says. "Kids are the same way all over the world. They like the same things."
And they often need the same things, too. "During my first fall in the United States, the cold started kicking in, and then the early sunsets, midterms, endless assignments and periods of a zero balance in the bank account," says Joel Tshite '19, engineering, who came to USI from a refugee camp in Zimbabwe. "At the same time, I was a teenager trying to fit in, speak the language and make friends."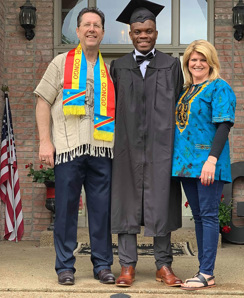 Tshite, USI's 2019 Outstanding International Graduate, turned to the Host Friendship Program (that he'd initially bypassed) and began to find his footing. "Accepting to be hosted was one of the wisest choices I made while in college," he says. "I felt included, and, as time went by, we developed a very strong bond."
"Sometimes the relationships take off in ways that truly become like family," says Gregori-Gahan. But even something as simple as a conversation over coffee or a ride to the grocery store can make a big difference in an international student's life and USI experience. "Having the opportunity to have somebody who's connected to the [Evansville] community, who can help you learn more about the culture, who can be a resource for you, it's just so much richer," she adds.
It's not just students who benefit. Goodwin's experience inspired her to enroll in Chinese courses and proved to be a valuable opportunity for her own family. "I really wanted Emma to not feel like she was the only brown person in Evansville," she says about her youngest daughter, who was adopted from China when she was 18 months old. "You're investing in your kids' knowledge—their culture, their way of looking at the world, their way of getting along with other people—by introducing people of other cultures to them."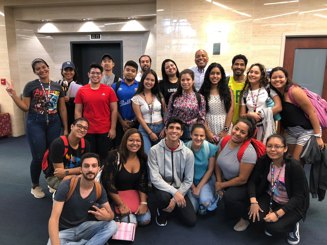 Twenty-three international students arrived on campus this summer, and Gregori-Gahan says dozens more are headed to USI for the fall semester. She and her team in the Center for International Programs are passionate about making them feel welcome and encourage more employees to follow Goodwin's lead by applying to participate in the Host Friendship Program.
"You will never know how rich and colorful your life will be until you become friends with an international student," says Goodwin. "We want our students—our alumni—to be successful in life, and when you invest in a student, you always make them more successful."
#YouAreWelcomeHere
USI is one of hundreds of colleges and universities throughout the United States participating in the national #YouAreWelcomeHere campaign. You may have noticed #YouAreWelcomeHere signage around campus. The Center for International Programs plans to increase campus and community awareness of the initiative through marketing materials such as t-shirts, buttons and stickers.
As the campaign's website states, sharing the #YouAreWelcomeHere message "demonstrates that we support internationalization across our campus communities and across the country."