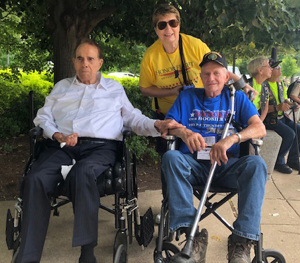 Breakfast plans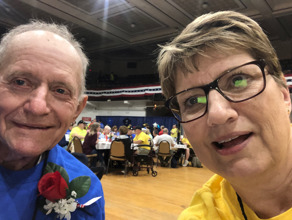 She may be free for lunch or dinner, but on Saturday, July 20, Dr. Ethel Elkins, associate professor of health services, has breakfast plans. They are plans so important that she'll wake up at 2:30 a.m. and drive an hour to pick up her dining companion.
His name is Israel "Leon" Whitehead. He is 79 years old and lives in Tell City, Indiana, the town where he grew up. The town he left after enlisting in the Army at 18, like his six brothers before him.
Without that call to service in 1958, it's almost certain that he and Elkins would not be sharing this meal together.
Answering the call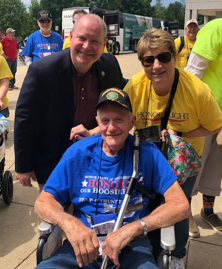 Elkins—whose father served in the Army during World War II and the Korean War and whose son-in-law is active duty Coast Guard, preparing to return from a year-long deployment in Saudi Arabia—knew she'd discovered something important when she watched local news coverage of an Honor Flight. She loved seeing veterans flown to Washington, D.C., at no cost, to visit—often for the first time—the memorials and monuments built in their honor. She wanted to help.
She applied to be a Guardian, ready to travel with a veteran on the day-long trip. And then, she waited—for years—until the call came this spring. Leon Whitehead needed a Guardian; Elkins was the woman for the job.
She had no idea how much that job would change her.

Memorial Day 2019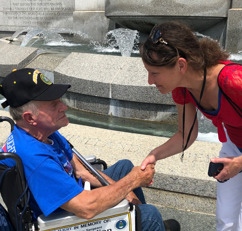 From the moment they stepped off the plane in Washington on Memorial Day 2019, Elkins knew the trip would be unforgettable. "You never once wondered where you were going because there were these lines of volunteers," she recalls of the airport. "Travelers were stopping and saying, 'Thank you for your service.'"
It happened over and over as the group of 85 veterans and their Guardians stopped at war memorials and Arlington National Cemetery for the Changing of the Guard. Strangers shaking hands and striking up conversations with men who expected nothing of the sort when they returned home from serving. "It was powerful… it really restored your faith in humanity, in the goodness. There was nothing negative about the day. There was just no hate," says Elkins.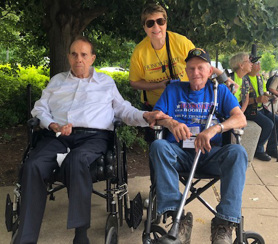 One of the most touching moments came on the way home, as Whitehead sifted through a pile of cards and letters—many from Elkins's fellow faculty and staff members at USI and children in her daughter's sixth grade class. One note stood out, its sloping scrawl so personal it prompted Whitehead to bring it to his chest. "He said [it was from], 'My doctor's wife. He took care of me my whole life until he died, and she's still alive,'" Elkins explains. 
By the end of the emotional day, capped off with a hero's welcome at the airport ("I didn't know that the people of Evansville would do that"), Elkins "was a mess." She'd not only supported Whitehead through his journey, but also taken one of her own. "You're incredibly close to this guy [Whitehead] that you didn't know 72 hours ago because it's like you've shared this piece of his history. I kept wishing that my dad [who died when Elkins was 32] would have done this," she says. "I think it took this long for me to really recognize… this was my dad, one of these guys."
Going back for more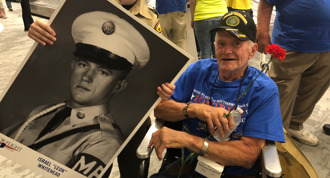 Memorial Day didn't just create lasting memories for Elkins; it uncovered a newfound passion. "Nothing has hit me that hard in a long time," she says of her experience with Honor Flight Southern Indiana, which to date has flown 794 veterans to the nation's capital.
She's looking forward to taking Whitehead to a reunion breakfast later this month (2:30 a.m. wake up or not) and is already exploring other Honor Flight volunteer opportunities. "You can volunteer all day or you can volunteer a couple hours," she says. "I would say there's no end to how much or how little you can volunteer."
And you never know. You just might make a friend like Leon Whitehead along the way.
About Honor Flight
The 11th Honor Flight Southern Indiana (HFSI) leaves from Evansville Regional Airport for Washington, D.C., on Saturday, October 5, 2019. HFSI is the 133rd Honor Flight Network hub and serves Crawford, Daviess, Dubois, Gibson, Knox, Lawrence, Martin, Orange, Perry, Pike, Posey, Spencer, Vanderburgh and Warrick counties. To learn more about the organization, including how you can help as a Guardian, volunteer or donor, visit https://honorflightsi.org/. Additionally, HFSI is always accepting applications for veterans.
Dr. Ethel Elkins is also happy to share more of her experience with anyone interested in getting involved. She may be contacted at eaelkins@usi.edu.