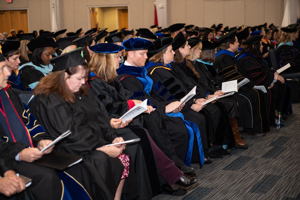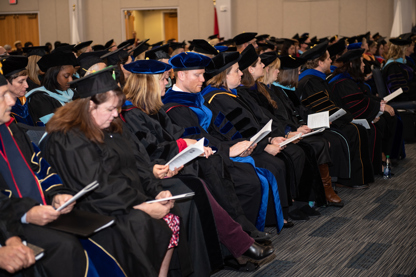 When USI hosted its inaugural Faculty Convocation in the fall of 2017, Xavia Harrington-Chate, then an instructor of English (now an instructor of teacher education), was inspired by the accomplishments of her colleagues and impressed by the impact they'd made on students. "I just thought that was so amazing—that students with their busy lives, their busy schedules outside of their academic loads, and possibly workloads, and family lives and professional lives outside of campus—that they would take the time to nominate their professors for anything," she says.
Imagine her surprise one year later, when she was presented the H. Lee Cooper Core Curriculum Teaching Award in front of a room full of those same peers who'd motivated her to work even harder. Being publicly recognized for her years of early-morning lesson planning and late-night grading was emotional for Harrington-Chate.
"I felt as though the University and my colleagues and my students who nominated me realized that I do take the time to make the classroom environment warm and inviting and student-centered. I felt as though they realized that every in-office meeting and every office hour was intentional," she says. "It was a moment that I didn't expect to have."
Last year's Faculty Convocation was also memorable for Dr. Glenna Bower, professor of kinesiology and sport and associate dean of the Pott College of Science, Engineering, and Education. She was presented the Distinguished Professor Award, the highest honor for USI faculty. "When I received my award, to see my peers out there to recognize me—the feeling's just unbelievable," she says. "And I think that is what Faculty Convocation is about, to recognize our peers."
Bower and Harrington-Chate look forward to celebrating the University's 2019 Faculty Convocation honorees:
Mahlon E. Powell '11, Adjunct – College of Liberal Arts
USI Foundation Outstanding Faculty Teaching Award by Adjunct Faculty


Dr. Crystal Steltenpohl '11, Assistant Professor of Psychology
USI Foundation Outstanding Faculty Teaching Award by New Faculty


Dr. Daria P. Sevastianova, Associate Professor of Economics
USI Foundation Outstanding Faculty Teaching Award
Dr. Srishti Srivastava, Assistant Professor of Computer Science
Sydney L. and Sadelle Berger Faculty Community Service Award
Dr. Sakina M. Hughes, Associate Professor of History
H. Lee Cooper Core Curriculum Teaching Award


Dr. Ernest H. Hall, Jr., Professor of Management
University of Southern Indiana Distinguished Professor Award
USI students, faculty and staff, as well as retirees, alumni and community members, are invited to honor these award winners at the University's third annual Faculty Convocation Friday, October 11 at 3 p.m. in Carter Hall. Faculty members who have received promotion and/or tenure, have completed doctoral and terminal degrees, are celebrating 25 years of service and those earning emeriti honors will also be recognized.
Though individual awards and acknowledgements will be presented, the event is meant to celebrate all faculty members for their dedication to USI and the countless hours they spend helping students succeed.
"It's an opportunity to thank the faculty for what they've done throughout the years," says Bower. "It's an event for all of us."
"While we're all busy, and we all have 100 things going on daily, I think Faculty Convocation is a way that we show our new faculty, our veteran faculty, our tenured faculty, our instructors, our adjuncts—everyone—that we're all one and there are no hierarchies. There are no distinctions being made," says Harrington-Chate. "Professors do so much, day in and day out, to impact the campus climate at USI. Faculty Convocation day is the one day that's really set aside to promote and honor the work that we do and the great things that we bring to the USI family."
USI faculty members are asked to register for the event for planning purposes. A reception will be held in The Loft dining area in UC West immediately following the ceremony.