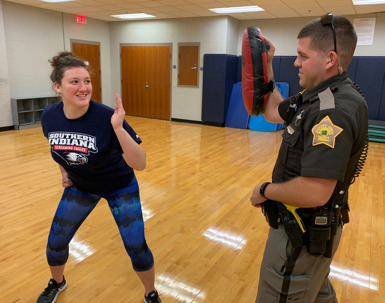 "Our first day we got to see a couple of the instructors duel each other. We all sat there with our jaws dropped, thinking, 'There's no way I can move this fast and block all these hits by myself, this is insane.' By the end of the class we were doing it just as fast, if not faster, than them." -Alyssa Jenkins '23, nursing, R.A.D. Self-Defense Class participant
At 4'10", Susan Sauls, director of University Art Collections, may not look particularly powerful. But after completing a R.A.D. Self-Defense Class with USI Public Safety and the Vanderburgh County Sheriff's Office last fall, she's feeling more confident about her ability to protect herself. "While I generally feel safe on campus, I wanted to feel that I have some extra defense tricks up my sleeve. This wasn't just about being on campus, but in parking lots, walking around town and traveling to other cities," Sauls says about her decision to enroll in the free, four-part course open to female USI students and employees.
When she read about the class in an email, nursing student Jessica Smith '23 signed up immediately and recruited her friend Alyssa Jenkins '23, nursing, to join her. "It really empowers us. It gives us more confidence in how we can assess situations," Smith says. "I feel like if a situation were to arise, I could care for myself and possibly other people with me," adds Jenkins. "It definitely does make you more aware of your surroundings."
Married with five sisters, Deputy Clint Stanton with the Vanderburgh County Sheriff's Office is passionate about teaching women how to defend themselves. "We tell all the students that we can't prevent everything, but the goal is to feel empowered, to feel like you're not alone in those situations and that you know what to do and how to get out of certain things," he says.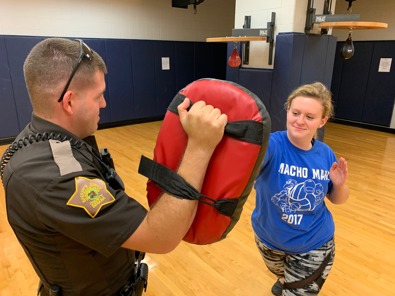 To do that, he and the other instructors encourage students to focus on what works for them. "Everybody's stronger in different areas. We give them an abundance of moves and tools that they can use for different situations, and then they can pull what's appropriate," says Stanton.
Sauls, for example, learned ways to fight back that work with her small frame. "The instructors made an effort to teach me alternatives that could be more effective for someone my size."
Whatever the strategy, the goal remains consistent: teach students how to get away from unsafe situations. Helping participants feel comfortable—with each other and the instructors—is a big part of the equation. "If you feel awkward striking your pad because everyone's staring at you, you're going to hold back," Stanton says. So, they work hard to create a safe, family-like atmosphere throughout the course's 10 hours.
But building trust isn't just beneficial for mastering self-defense techniques. It can encourage participants, or people they know, to approach law enforcement officers with issues in the future. "It opens all those communication barriers," Stanton says.
"I definitely have encouraged a lot of people to attend," says Jenkins. "A lot of times we view those officers as people who are just waiting to get us in trouble, and not as people who have families and sisters outside of this. This is something that is near and dear to them, and you can tell that throughout the course."  
Deputy Stanton and three other instructors from the Vanderburgh County Sheriff's Office and USI Public Safety will host the next free R.A.D. Self-Defense Class February 18 through 27 in the Recreation, Fitness and Wellness Center. Another course will be offered in April. Each class can accommodate up to 16 women, and registration is available at https://usi.edu/rad-registration.