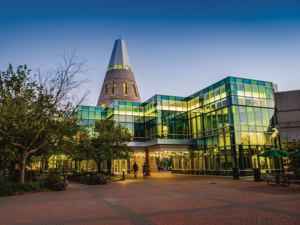 As progress continues toward the creation of the University's third strategic plan, USI students, faculty and staff are encouraged to monitor the process and view updates through a comprehensive SharePoint website.
The site can be accessed by logging in to myUSI and clicking on the strategic plan icon (red arrow) under "Eagle Apps" on the top left section of the page or by visiting https://pilotusi.sharepoint.com/strategicplan/SitePages/Home.aspx.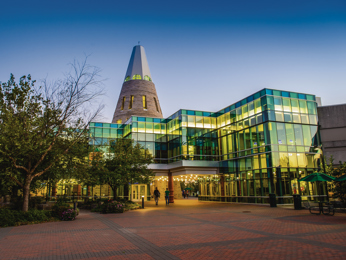 Once on the site, students and employees can review the members of the Strategic Plan Coordinating Committee, ongoing updates to the plan, a roadmap of its next steps and a proposed timeline, including targeted completion and approval by the USI Board of Trustees at their July 2020 meeting.
Resources related to other higher education strategic plans and USI's strategic plan stakeholder survey results are also available on the SharePoint site. Survey participants included faculty, staff, students, alumni, retirees, friends of the University and the Board of Trustees. Members of the Board of Trustees remain involved in the strategic planning process.
Based on survey feedback, proposed changes have already been made to the University's core values, mission and vision and can be viewed by clicking on each category on the left side of the website's homepage. An updated environmental scan, or SWOT analysis, to identify USI's strengths, weaknesses, opportunities and threats is underway.
As the process continues, the committee will update the website with strategic plan goals, objectives, and strategies, as well as an action plan and outcomes assessment.
Committee co-chairs Dr. Mohammed Khayum, provost, and Steve Bridges, vice president for finance and administration, discussed the strategic plan process and answered related questions at a town hall Wednesday, January 29 hosted by Administrative Senate, Faculty Senate and Staff Council. A video recording of the town hall is now available on the USI Employee Governance website.
Communication, collaboration and transparency remain priorities for the Strategic Plan Coordinating Committee. Additional opportunities for USI students, faculty and staff to participate in the creation of the University's third strategic plan will be shared as they are made available.