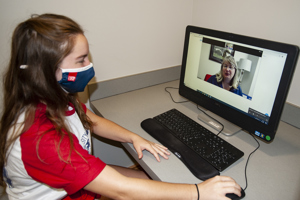 As soon as USI transitioned to remote learning in the spring, Career Services and Internships staff began to discuss options for the Fall Semester. "We knew this fall would look very different for the [job and internship] recruiting events that we host each year," said Stephanie Fifer, Employer Recruiting Associate.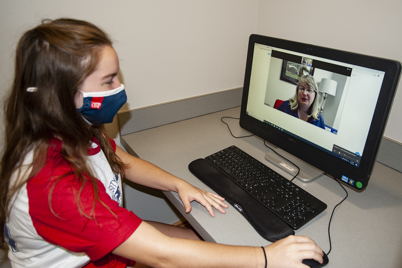 Typically, the office hosts at least two in-person career fairs each year, one in the fall and one in the spring. But before they considered how to host an event during a pandemic, they needed to know if employers would still be hiring despite it. About 80% said yes. So, by mid-June, equipped with more information and guidelines from the state and the University, Fifer and her colleagues decided to adjust their plans and offer a virtual CareerLINK Internship and Job Fair for the first time. "We wanted to make sure our USI students were given the opportunity to connect with those employers to be considered for their jobs and internships," Fifer said.
The virtual fair from 8 a.m. to 4 p.m. Wednesday, September 23 won't only be new for students and USI staff, but also for many of the 30 employers who are participating. "We asked how many of them had participated in a virtual fair before, and only 18% of them had," said Fifer.
Over the summer, Career Services and Internships staff completed virtual trainings and recently tested the process to ensure the event goes smoothly. Students and employers also had the opportunity to practice.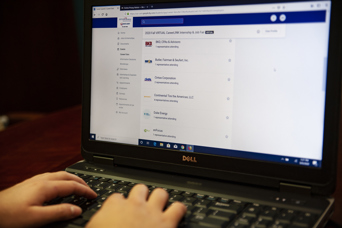 On the day of the virtual fair, employers will use a video software of their choice (Zoom, Microsoft Teams, etc.) to connect with students looking for internships as well as full- and part-time jobs. "Many of the employers attending are recruiting engineering, business and healthcare majors. But there are quite a few that are also recruiting students from all majors," said Fifer. "Any student who wants to do an internship or get a job this spring or summer should view the employers on Career Launch so they don't miss an opportunity."
Students can register for the event until one hour before it begins through the Career Launch 2020 Fall Virtual CareerLINK Internship and Job Fair website. They will be able to see the list of registered employers, which could continue to grow through Friday, September 18.
Step-by-step instructions and video trainings are available online for students and employers. 

In addition to the virtual fair, a limited number of employers will hold in-person information sessions on campus during the week of September 21. Students are invited to schedule appointments based on major and can find more information on Career Launch.