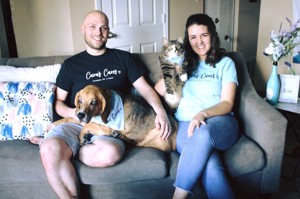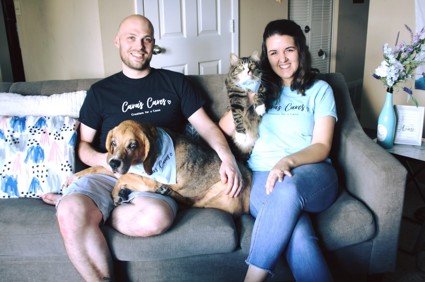 Cara Dunn, Academic Advisor in the College of Nursing and Health Professions, spends her weekdays assisting students in choosing classes that best fit their schedules. She also spends hours upon hours, outside of her normal workday, situated in front of a sewing machine creating custom items for her online business, Cara's Cares. 
Dunn's small business, launched amid the uncertainty of the pandemic in June 2020, specializes in custom items including, but not limited to, shirts, kitchen towels, dog and cat bandanas—and of course—masks. Not only does Cara's Cares offer a wide variety of customizable options, but the apparel business also donates 5 to 10 % of its proceeds to a different charity each month. "Cara's Cares has raised money for numerous causes like saving the bees, supporting women in higher education opportunities and even creating its own scholarship fund, which will support a student beginning any form of secondary education," Dunn says. "Each month, we select a nonprofit and create items that specifically represent that charity. These items become the "Charity Line" of the month." 
Knowing she's always had an interest in starting a business with a focus on giving funds back to nonprofits and individuals in need, 2020 seemed like the most opportune time to take on a new creative venture where Dunn could put her sewing talents to good use. "When the pandemic hit, the need for sewing became more important than I could have ever imagined. I found some fabric and decided to sell masks and donate all the proceeds to Matthew 25, a local nonprofit," Dunn reflects. "We raised over $500. This is when I tailored my business idea to apparel and other sewn items and officially started it [Cara's Cares]." 
Although managing an online business is a huge responsibility, especially with a full-time job and during a global pandemic, Dunn says all the hard work has been gratifying. She was able to participate in a vendor fair last year, and the week after she attended, she saw a student wearing one of her items on campus. "It's been so rewarding to use my creativity to support nonprofits, while also creating fun products that people feel excited to wear," she says.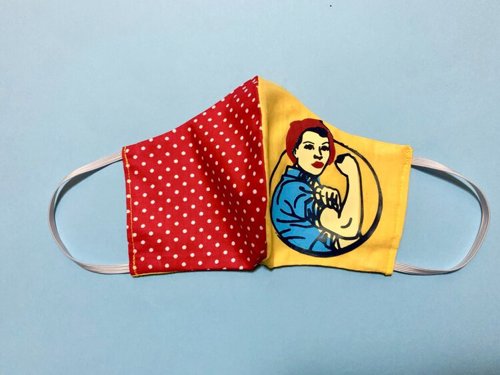 While Cara's Cares has already seen much success in the short time it's been an official business, that isn't halting Dunn's growing goals and ambitions for the future. In 2020, the venture raised nearly $1,000 for local and national nonprofits, and this year, she's striving to not only match this achievement, but expand upon the charities and causes Cara's Cares benefits. And, although she hopes to see bare smiling faces by the end of 2021, she'll continue to provide individuals with masks and other customizable items featuring their favorite designs, logos and graphics with the hope of inspiring self-expression and happiness during these unprecedented times. 
Dunn will continue to assist College of Nursing and Health Professions students for semesters to come, but she'll also be spending a lot more time propped in front of that sewing machine. Many uncertainties are still present as the pandemic progresses, but one thing is for certain: Cara's Cares will continue to thrive and brighten spirits near and far.