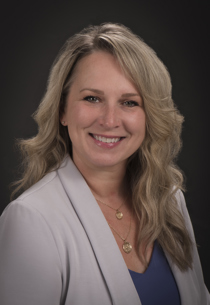 The University of Southern Indiana has appointed Kristie Byrns as Director of the newly formed Center for Adult Learner Success (CALS).
As Director, Byrns is responsible for overseeing a team comprised of two intake specialists, three support specialists and a marketing manager. Under her guidance, the Center works with USI's community at large to provide a strategic vision for the growth of the University's adult learner programs while collaboratively mobilizing campus resources to serve this significant student population. As an adult learner herself, Byrns understands many of the complexities facing the lives of nontraditional students today. She and the CALS team act as advocates, facilitating smooth transitions for adult learners in higher education and encouraging such individuals to achieve their career goals.
Prior to joining USI, Byrns worked in the University of Evansville's Center for Adult Education from 2009-2016, including as Director from 2012-2016. More recently, from 2016-2021, Byrns held the title of Executive Director of the Albion Fellows Bacon Center, a local nonprofit organization aiding those impacted by domestic and sexual violence.  She holds a bachelor's degree in sociology from USI and a master's degree in public service administration from the University of Evansville.
To learn more about the Center for Adult Learner Success, contact Byrns at klbyrns@usi.edu or 812-465-1036.