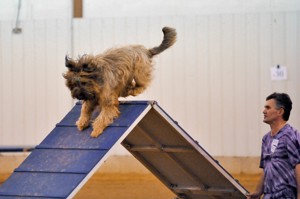 Jim Wolfe, Director of Facility Operations and Planning, isn't a big fan of free time. "We were about to become empty nesters. I'd spent 15 years coaching my daughters' fast-pitch softball teams and attending volleyball games," he says. "Although I was continuing to officiate high school sports, I just sensed a need to fill the void left in my time."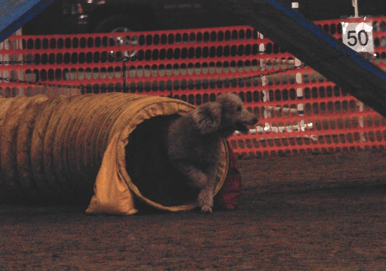 On top of his responsibilities overseeing capital, maintenance and capital improvement projects with two previous employers here at USI, Wolfe officiated football for 17 years, volleyball for nearly 12 years and basketball for five, then chose to add another hobby barking for attention in 2004—dog agility training.  
After watching a couple of dog shows on television during some of that unfamiliar free time, Wolfe started looking into breed shows but ultimately decided that grooming dogs, especially poodles, was not something he would enjoy. This research led him to a curiosity in dog agility training, instead. He found, through additional research, that standard poodles are high energy, athletic dogs who are typically good with children and decided to start a search of his own.  
His careful search took him to a conversation with an employee at West Kentucky Rescue in Almo, Kentucky, where a particular standard poodle caught his eye. "After successful applications, home visits and reference checks, one reference told us they thought we were adopting a baby instead of a dog," he explains of the tedious adoption process. "We brought Alec home in October of 2004."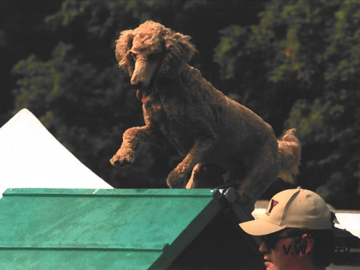 Alec was one of 24 young standard poodles from a breeder in the Almo area who was trying to find homes for three unexpected litters born during a difficult time for the breeding family. Alec, and none of his brothers and sisters, had ever been socialized. "Looking back, I realize this was the first time he had been separated from the household with more than 30 dogs," Wolfe reflects. "He was so fearful of strangers that even our college freshman daughter, who came home most weekends, couldn't be close enough to pet him for six months." 
About two months after Alec became a part of the family, he and Wolfe enrolled in agility training, both aware of—and accepting—the fact that they had a lot to learn independently and from one another. During an early session, Wolfe and the trainer they primarily worked with, Teresa, were trying to convince Alec to run through a 12-foot flexible tunnel. Before Alec would even consider running through it, the tunnel had to be condensed to three feet. He finally entered it, and during his exit, Teresa touched him, and he quickly, skittishly ran back to Wolfe. "For the next six months, Teresa could not be within 15 feet of Alec, or he would shut down and lean against me," he says. "Since then, she has told the story of training a dog from afar many times." 
With time, practice and patience, both Alec and Wolfe became more comfortable in training sessions, and it showed. Another six months passed, and the pair could successfully complete a small series of jumps, tunnels and weave poles. Alec eventually went on to win the Masters Agility Championship, the most prestigious agility title awarded by the American Kennel Club, something Wolfe considers "not an easy feat."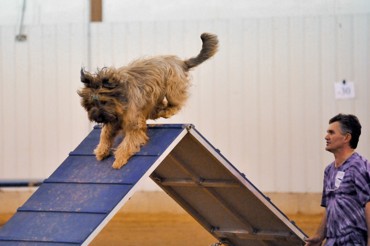 Over the years, Wolfe's gone through agility training with three more dogs—Nickel and Blue, both standard poodles, and Pennie Mae, a Briard with a lot of energy and an instinct to herd. Alec passed away in 2014, but his adopted furry brothers and sister have done their best to carry on his impressive legacy. Blue recently restarted his training put on pause by the pandemic, and Nickel trained for fun with more interest in those who came to watch him than the actual agility activities themselves (he once decided to visit his Mom [Wolfe's wife] during a trial run which disqualified him from a competition). Pennie Mae retired from training because of hip issues, but she loved to run agility and also did not care at all to knock down jump bars or poles in the process. 
Wolfe is thankful for that free time he once dreaded—thankful it allowed him to find a passion in building strong bonds with four-legged family members while staying in shape (like officiating did years before). "It's been very satisfying to help young children, dogs and myself learn new activities." 
This feature was written by Kaylee Johnson, Graduate Assistant in University Communications.