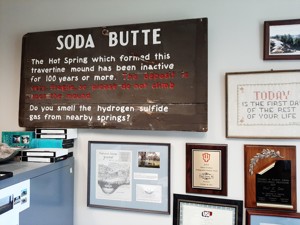 If you've visited any national park in the U.S., you've likely seen the brown signs with yellow or white text. These markers are filled with information about natural formations, scientifically important spots or the historical significance of an area. The interpretive signs are typically created for educational purposes and are geared toward a park's visitors. For Dr. Paul Doss, Professor of Geology,  one particular interpretive sign from Yellowstone National Park goes beyond being just informational.
Hanging in his office, in the Geology and Physics Department, is an original Yellowstone interpretive sign for the Soda Butte Hot Spring. This sign was a gift from the park's sign maker after Doss took time off from USI to serve as the Supervisory Geologist at the park in 2001.
"I wrote a new sign and was given the old," says Doss.
For Doss, this is just a small part of a larger duty he had as Supervisory Geologist.
"I was honored to be selected as the first Chief Geologist for the world's first national park. The work was incredibility diverse and challenging, including helping route trails to avoid sensitive areas, working with the Federal Department of Transportation on road geotechnical matters, investigating visitor accidents in thermal areas, coordinating external research, fulfilling state and federal monitoring mandates and working closely with the Interpretive Division on designs of Visitor Center exhibits and educational materials. It was, and remains, a career highlight for me," he says.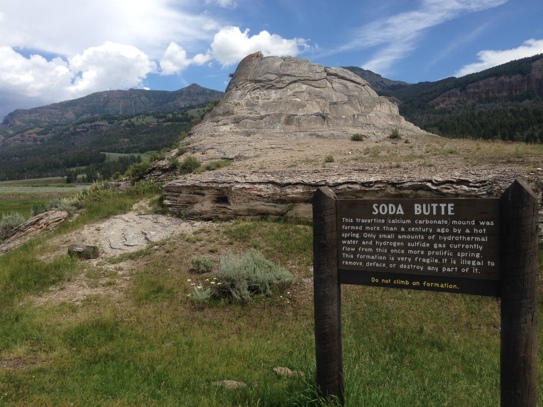 The story of the sign is simple—Doss simply initiated a conversation about getting the sign updated, which resulted in the park consulting him on creating updated content.
"The old sign was geologically inaccurate," he explains. "It said the spring had been inactive for 100 years, and then asked, 'Do you smell the hydrogen sulfide gas?' An inactive spring wouldn't discharge hydrogen sulfide gas!"
The life span of an interpretive sign in a national park can vary tremendously, Doss says. For example, signs in Yellowstone may find their end from an itchy bison using it as a scratching post. Signs also are updated as new scientific, historical and archeological information is gathered for that specific spot.
Doss's piece of Yellowstone was given to him by the sign maker once the new sign was created and installed. It holds a special place for him, as Yellowstone is a favorite travel spot of his. He continues to work closely with Yellowstone Forever, a nonprofit educational partner for Yellowstone National Park (many parks have similar associated groups, Doss explains). During his time at the national park, Yellowstone Forever provided funding for the newly constructed Old Faithful Visitors Center.
"They also have a long-standing educational mission that includes multi-day field seminars. I lead a couple seminars related to the foundational role of geological setting on the biological elements of a landscape and ecosystem. I've been leading these seminars for 22 years," Doss says
The old sign, now hanging in Doss' office reads: "Soda Butte. The Hot Spring which formed this travertine mound has been inactive for 100 years or more. The deposit is very fragile, so please do not climb upon the mound. Do you smell the hydrogen sulfide gas from nearby springs?"
The new sign currently in the park, written by Doss, reads: "Soda Butte. This travertine (calcium carbonate) mound was formed more than a century ago by a hot spring. Only small amounts of hydrothermal water and hydrogen sulfide gas currently flow from this once more prolific spring. This formation is very fragile. It is illegal to remove, deface, or destroy any part of it. Do not climb on formation."
* * *
Do you have an interesting office collection or items you'd like to share with the USI community? Reach out to University Communications or email Trista Lutgring, Internal Communications Specialist, at tjlutgring@usi.edu.