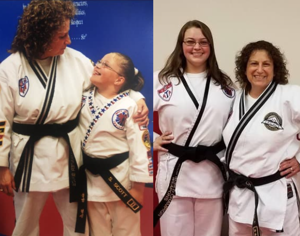 Shelby Scott '21, Bursar's Assistant, knows the importance of hard work and dedication, and she's seen—through her own achievements and the progress of her students—the love she has for martial arts pay off in more ways than one. Now teaching martial arts at Brice's ATA Martial Arts in Evansville, where she trained for nearly seven years of competition, Scott incorporates her impressive legacy into her work with students training to be champions and leaders in the world of martial arts, as she was years ago. 
Scott began training at Brice's ATA Martial Arts at the age of 5, and the studio, from then on out, has been considered her second home. During her years of competition, she made quite a mark in the world of martial arts, earning several notable accolades. She accumulated 18 state titles, competing against hundreds of women in her age group, achieving recognition in traditional forms, weapons, sparring, extreme forms and extreme weapons.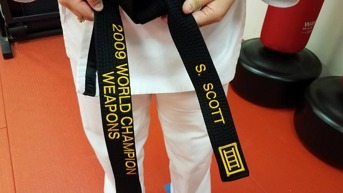 Aside from her 18 state titles, Scott can also call herself a Silver and Gold World Champion. In 2008, she earned a silver medal in the World Championships in weapons, and in 2009, she earned a gold medal in the World Championships in double nun chucks. "The competition was tough and fierce to say the least," she reflects. "The World Championships include 27 countries around the world and are hosted in the headquarters town of Little Rock, Arkansas, every summer." 
After winning her titles, Scott retired from competition and focused on achieving teaching certifications, qualifying her to guide and prepare those who are following in her footsteps. Currently, as a fourth-degree black belt (earned by obtaining a high school diploma, putting in leadership hours and testing in front of a panel at the World Championship Exhibition) and level three certified instructor, she teaches all age groups at Brice's ATA Martial Arts and enjoys experiencing the vast abilities each group brings to the mat. "The Tiny Tigers, who are our preschoolers and kindergarteners in the 3 to 5 age group, are a lot of fun to teach," she says. "They are just working out their wiggles and learning more about their coordination."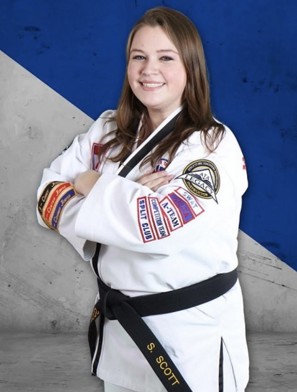 As for the older athletes she instructs, Scott basks in the feeling she gets seeing leadership skills gained from martial arts translate into applicable, empowering skills outside of the bounds of the studio walls and world-wide competitions. "I have learned that everyone wants to take something different from learning martial arts," she explains. "They learn life skills, self-defense and self-development." 
Scott can't imagine her life without martial arts in it as the hobby has provided a steady foundation for her to stand upon in her personal and professional life. "It is never too early or too late to start martial arts," she says. "I plan on teaching martial arts for years to come."   
This feature was written by Kaylee Johnson, Graduate Assistant in University Communications.