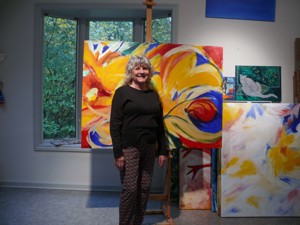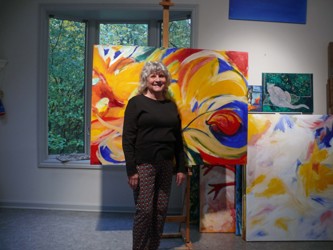 An artist. A traveler. A teacher with a legacy. Carolyn Roth, former USI Art Department faculty member, embodies all three. Roth, who retired from the University in 2010 after 26 years of service in teaching 2-D art, drawing, color and design, figure drawing and painting, is enjoying retirement and the time it offers to focus on her personal growth and creations.  
Art has always been a constant in her life. As a child, her parents encouraged her to embrace her creative side. "I knew about art as a child because my mother would paint little flowers on the backs of the dining room chairs to enhance them and drew pictures on my reports for school as her way of helping me with homework," she reflects. "She and Dad took my sister, brother and me to art classes at the museum. The art did not resonate with them as it did for me." 
Art class at the museum opened her eyes to the possibilities art had to offer and how it could one day serve as a career. Roth found herself disinterested in the typical craft projects she was assigned during Saturday morning class at the Detroit Museum, which led to exploration where she stood in the shadows and watched a person sitting at an easel painting a still life. From this experience, she knew what she witnessed that Saturday morning was what she wanted to focus on for the rest of her life. 
"I consider myself lucky to be an artist," she says. "Being sensitive to life and letting imagination and creativity flow through me is wonderful. I am lucky to have a husband, Dr. Charles Barber, who likes to look at art and likes to go to museums and galleries."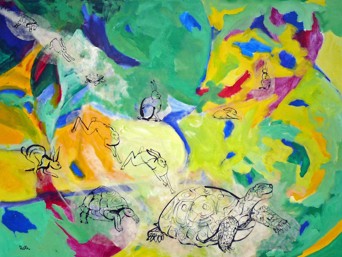 Roth and her husband enjoy looking at art around the Tri-state area, but they also enjoy traveling around the world to see the wonders it has to offer and gain perspective and inspiration. Roth says traveling has always been a source of inspiration for her art—before and after retirement. Roth and Barber have visited more than 60 countries, and she has a plentiful collection of paintings based on her observations.  
As a faculty member at USI, Roth was always thankful for the time she could find between teaching a handful of classes and assisting students day-to-day. She spent her infrequent spare time prolifically spewing out art. Now that free time is easier to find, she considers herself more thoughtful and deliberate in the work she produces. She is currently working on an ongoing series of paintings based on Aesop's Fables in which she is artistically interpreting the stories she has found most significant.  
Today, Roth has paintings in the consignment gallery of the New Harmony Gallery of Contemporary Art and has been with the gallery since 1975 when it opened. Roth also has 23 paintings currently on display in her solo show "Peaceable Kingdom" at the Saint Meinrad Archabbey Library Gallery in Saint Meinrad, Indiana, through December 8.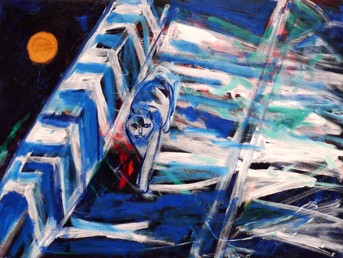 The pandemic put a hold on creativity for some, but Roth has used the unexpected time to build her own artist's website where she is able to create a virtual record of her work. Through a USI Outreach and Engagement Lifelong Learning course she took during the midst of the pandemic, Roth learned how to build, categorize, organize and populate her online space. "I am currently busy working with transferring slides of my past art works to digital images," she says. "I am working toward having a category of past works that includes art from the 1960s, 1970s, 1980s, etc." 
Though her teaching days are behind her, Roth continues to learn, adapt, grow and inspire as an artist. "I have come across people in Evansville who were my students years ago and have been gratified when they told me how I had inspired them," she says. "They are my teaching legacy."