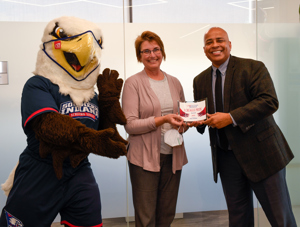 Seeing USI President Rochon accompanied by Archie pop in and interrupt the meeting she was sitting in didn't quite surprise Mary Scheller, Communications Associate for the Gerontology Department. At first.
In truth, she thought Dr. Rochon was visiting the third floor of the Health Professions Center to present an award or something similar to faculty member Dr. Katie Ehlman. "When I saw Archie and Photographer Elizabeth Randolph with her camera, I thought, 'Wow, this must be a big deal for Katie!'," says Scheller. "Once I stepped outside the office, I saw my co-workers all staring at me. It was then I finally realized  something was going on that involved me."
The reason for the celebration was to present Scheller with the 2021 Screagle Pride Award, which is presented to a faculty or staff member who embodies the spirit of USI and goes above and beyond in their work. The winner is voted on by the University's Elevating Spirit Committee. Scheller was one of 18 employees nominated by their peers. Scheller  had three separate employees submit her name for nomination to receive this year's award.
"I am still in shock about winning," says Scheller, who has worked at USI since July 2011. "Those who know me can attest that I prefer to be 'behind the scenes' and definitely not the center of attention, so I never even thought about someone nominating me, much less being the recipient of this award."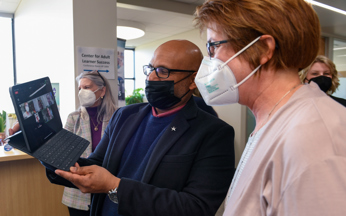 Those gathered to celebrate Scheller included her co-workers in the College of Nursing and Health Professions, members of the Elevating Spirit Committee and Scheller's husband, Bob. Her four children were also able to watch the event honoring their mother via Zoom.
"I've learned a lot over the pandemic  about community and about people. I'll tell you right now, whenever people hear about someone receiving an award, and they show up like this, with this kind of energy in the air and sincere happiness for you, it says a lot about who you are. That people want to be here and see you celebrated," Dr. Rochon said to Scheller at the award presentation on Tuesday, January 18.
Though Scheller may still be a little overwhelmed by the award, she feels "very, very honored" to receive it and grateful to be a part of the USI family. Her spirit and love for USI have left a large impression on those she works with, as well as the students who meet her, as evidenced by the words shared by her nominators. "It means so much to me that my co-workers took the time to nominate me. Listening to Dr. Rochon read what they wrote about me (at the presentation) brought tears to my eyes," says Scheller.
Those nominations specifically mentioned Scheller's dedication to her job, but also her willingness to volunteer for a variety of projects and events across campus—whether its welcoming students or University guests with "incredible hospitability," to making meals, or coordinating help for co-workers experiencing life challenges. "Mary is the true embodiment of USI's can-do spirit," one nominator wrote.
"I just love interacting with people. It feels good to be back on campus and being part of the humming machine that is USI," says Scheller. "I also like being a part of the solution. Often, someone will come to me with a question, and I like to help them get it all sorted out."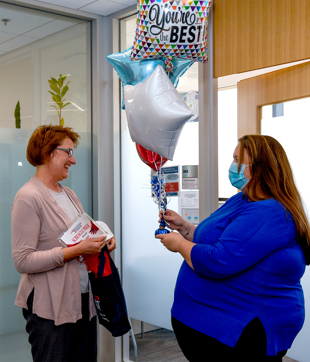 Scheller's history with the University of Southern Indiana goes back to her childhood, when she grew up across the highway from campus, watching the first buildings of USI come to life. "Our family was so excited to have a university in our backyard. It has been a real joy to see how this university has grown over the years, and I'm always proud to bring visiting friends and family members to our campus to show off where I work."
She also includes the academic opportunities and high-level education the University offers students. "My husband and I are the proud parents of four USI graduates, so knowing their degrees were springboards to their current jobs inspires me whenever I am working with students," she says.
Scheller credits those she works with in the College of Nursing and Health Professions and Southwest Indiana AHEC for inspiration as well; seeing the work they do in the community in the areas of dementia education and overall health of older adults makes her "happy to be a small part of it."
"I'm truly blessed to work with such wonderful people," says Scheller. "I would like to say, 'Thank you' to all who were a part of the nomination process and surprise award ceremony."