It's a familiar sight during spring—tables outside University Center East lined with pottery pieces carefully crafted by USI Art students. The annual Student Ceramics Sale is a must-attend event for Connie Walker, Director of Advising for Nursing and Health Professions. Each year, she peruses the tables, looking for the perfect piece to add to her collection of USI student ceramics.
"I just try to go every year and buy an item," says Walker, who has kept up the tradition for the 13 years she's been at the University.
Why did she start collecting the pieces? Walker simply says it's because she likes them, and it's another way  to support USI students. A handful of the unique pieces decorate her office in the Health Professions Center, while others she has gifted to friends and family over the years.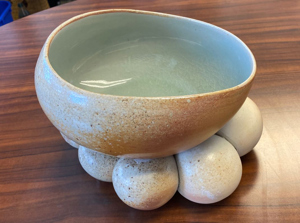 "I like supporting students at our University," she says. "And it's nice to support the arts as well."
The "funkier" pieces for sale are usually the ones that draw Walker's attention, and they are the reason she makes sure to attend the sales early as they are the fewest pieces offered. The two masks near her door kick-started her collection and the pieces continue to be her favorite.
"They are just so special, especially that one with the sour face," she says. "I wish there was a lot more to buy!" She's even had a student in for advising ask to take a selfie with the masks, which plays into another reason why Walker likes to display the items.
"As an advisor, I like to have a welcoming office for students, and everyone has different things to make their offices personal and friendly," she says. "Some students will come in and notice my pottery pieces; they usually say 'Wow, you've got a lot of color here!'"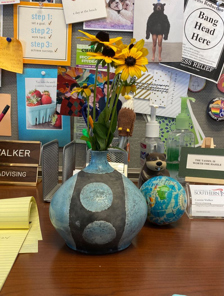 And though Walker generally doesn't get an opportunity to meet the students who create the unique pieces that dot her office, in the future, she hopes to create pieces alongside them.
"I enjoy pottery, and one of these days I want to take a pottery class!" she says. Until then, she will continue to attend the student sale, picking out her favorites and adding to her curious collection.
If you'd like to learn more about the USI Art and Design Department, visit usi.edu/liberal-arts/art. The annual Student Ceramics Sale, which features functional and sculptural objects made by USI students, generally is held in April next to University Center East, on The Quad side.