Briana Aldana, geology '24, has been selected as the sole student representative to travel with an Active Minds staff member to Washington D.C. for a Department of Education mental health summit with the Secretary of Education and Surgeon General. The conference is set for August 11.  
Active Minds is one of the nation's leading organizations for young adult mental health advocacy and suicide prevention. Aldana is President of Active Minds at USI, one of the 600 student-led chapters across the nation, empowering campuses to reduce the stigma surrounding mental health, create communities of support and, ultimately, save lives. 
"This opportunity is huge for me," says Aldana. "It confirms that I'm doing something right and gives me an even larger platform to advocate for mental health and suicide prevention on college campuses like ours." 
Out of thousands of students who could have been chosen, Aldana was selected as the single student representative to attend the Raising the BAR summit in Washington D.C. At the summit, she will continue to further her education on mental health and suicide awareness advocacy by sitting in on panel presentations and participating in breakout discussions with other attendees from around the nation. 
"Anyone who has spoken to Brianna at USI knows she is a tremendous advocate for supporting those who are struggling with mental health issues," says Dr. Jennifer Hammat, Dean of Students. "It was only fitting that she be selected as the sole student chapter representative for all student Active Minds chapters for this summit. She will represent USI and all student chapters with sincerity and compassion." 
Aldana, along with the rest of her organization, has worked hard year-round to provide the USI community with events and programming to change the conversation about mental health and make suicide prevention a priority across campus. The organization has hosted events such as How to Be a Friend workshop and Suicide Prevention Month Memory Walks. For the 2022-23 academic year, Aldana plans to host a Behind the Backpacks/Talk Saves Lives event as well as the group's annual Suicide Prevention Memory Walk.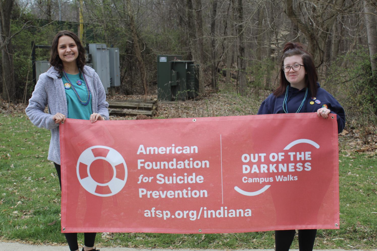 "We are lucky to have such amazing administrators on campus who really care about their students and mental health," says Aldana. "USI, as a whole, has been so receptive to learning how to have these conversations and support each other's mental health." 
To connect with Active Minds, follow their Instagram account @activeminds_USI or reach out to Briana Aldana for more information. 
This feature was written by Tobi Clark, a student worker in University Communications.