---
Transfers with 12-59 Credit Hours
---
---
Screaming Eagles Orientation
---
New Student Online Orientation will provide you with an overview of services and resources available to you at USI and covers several procedures. Completion of this online module will take approximately 2 hours. It is recommend that you complete prior to coming to the in-person component of orientation. 


Your orientation session will be on campus. The morning will be spent learning more about USI, meeting faculty, staff and other students and answering your questions. In the afternoon, you will have your advising and course registration appointment and have the opportunity to take care of any business you have while at USI, including getting your student ID. 
Lunch will be provided. 
When you check-in at Orientation, you will receive your advising appointment time and location. We will schedule that appointment for you. 
Plan to be on campus from 8 a.m.-4 p.m. CST.
Please check-in at the Performance Center Lobby between 8-9 a.m.
Each student is limited to two guests. 
Spring 2024 Orientation Dates
Friday, December 1, 2023
Thursday, January 4, 2024
Make sure to take care of these items prior to Orientation
Complete any required placement tests.
Submit final transcripts from high school and/or college. 
Request AP Test Scores be sent to USI. 
Don't Leave Home Without: 
Government Issued ID: Students will need to get their USI Student ID. 
myUSI Username and Password: Students will need to register for classes. 
Immunization Records: This is a great time to turn in the required immunization records. 
Spending Money: Never too early to add USI apparel from our campus store to your wardrobe!
Unofficial Transcripts: Bring the current college course list in which you are enrolled. This will assist with advising.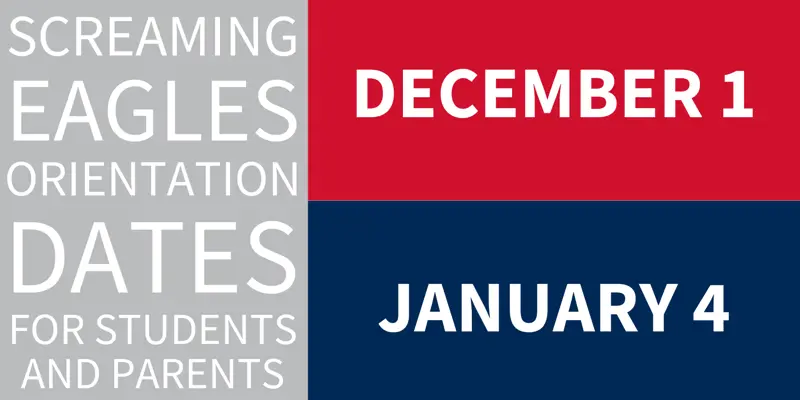 The Admitted Student Task List provides a comprehensive list of tasks a new student needs to complete prior to beginning classes at USI. We have compiled them in one location to help you keep track.  Use this task list to track your progress through the steps.
Access Task List
You will access your personalized Task List on myUSI. 
Go to my.USI.edu.
Log in with your myUSI username and password.
Click on the Admitted Student Task List icon under Eagle Apps.
Completing Tasks
Tasks will become available between admission and classes starting based upon when those tasks should be completed. You will see a date next to some tasks which indicates when that task will become available to complete. Other tasks may not be able to be completed unless an earlier task is completed.
Each task list item will provide you instructions on how to complete. If you need help, click on the question mark. It will provide you contact information for the department on campus that can assist with that specific task. 
It may seem that there are a lot of tasks to complete, but it's important that you complete each one. The task list is personalized to you, so other students may have a different list.