Ragged with Delight: A Conversation with Kendra DeColo
"'I Pump Milk Like a Boss' was a breakthrough poem for me. I wrote it after I became a mother and hadn't written (or rather, I had been taking notes and collecting fragments) for a year and it literally gushed out of me. It was a poem that showed me a way to bring together conflicting sides—the tenderness and broke-open feeling of new motherhood alongside the feral and urgent hunger of who I am as a poet." 
Read Amie Whittemore's interview here.
---
The Ghost of Form: An Interview with Anna Lena Phillips Bell
"The pleasure I take in square dancing is probably the same pleasure I take in writing poems in fixed forms—a structure that feels very physical. Poems, especially patterned ones, become part of our bodies when we express them physically. They become part of us and they change us." 
Read Hope Fischbach's interview here.
---
Each Other's Keepers: Review of Worldly Things by Michael Kleber-Diggs
"Michael Kleber-Diggs's Worldly Things follows the murders of Black American men in America and interrogates the assumptions of what it means to be black in this country. The poems grapple with the complexities of being unseen in the black body, having a skin color that acts as a veil from oneself, and at the same time what it means to be identified by a look—to have an invisibility that is only addressed when one can be studied under a fixed description."
Read Tryphena Yeboah's full review here.
---
A Witness in the Mist: Jacques J. Rancourt's Brocken Spectre
"These poems, in their examination of the lives of gay men during and after the AIDS epidemic, mourn the horrors of the epidemic of the 1980s and 90s while also carrying a wistful longing for community that coalesced in response to this crisis."
Read Amie Whittemore's full review here.
---
Glimmers and Ghosts: Review of Laura Van Prooyen's Frances of the Wider Field
"In Laura Van Prooyen's Frances of the Wider Field, time and space are slippery things, as is memory. Memory and the mysterious Frances of the title hover over the book like glimmers and ghosts seen from the corner of the eye. The book shifts back and forth between the narrator's childhood and her present as family members age and confront illness. Good memories and unsettling ones are recalled in concrete, memorable details, and often, the narrator wonders what they mean, simply documenting rather than attaching significance to them."
Read Kim Jacobs-Beck's full review here.
---
2021 Fall Round-up
Check out these micro-reviews from contributors Mary Ardery and Claire Wahmanholm!
---
The Mysteries of Brutality: Review of Éireann Lorsung's The Century
"An awakening, a desperate and urgent shake of the shoulders as if to disturb our numbness and, possibly, our comfort is what Eireann Lorsung offers in these poems. The Century, Lorsung's third poetry collection, couldn't be any more relevant at a time of reckoning with where we are, at last, willing to look at violence and call it what it is, where white privilege and structures of oppression are understood and confronted for the threat that they are."
Read Tryphena Yeboah's full review here.
---
"Self-Shaped Hole": The Speculative "I" In Kirsten Kaschock's Explain This Corpse
"To read Kirsten Kaschock's Explain This Corpse, winner of the Blue Lynx Prize for Poetry, is to enter a sort of poetic matrix. These are not poems that give primacy to feeling, though they contain it. Their purpose seems not to be to perform or elicit emotion, as much as to use it as a tool to show us other truths."
Read Leah Claire Kaminski's full review here.
---
Plating the Poem, Reclaiming the Story: A Conversation with Erin Elizabeth Smith
"So many of the relationships I had in my twenties were so deeply tied to where I lived that the place itself feels rooted to their loss. Maybe this is why I wasn't able to write about Tennessee until my husband left it, until it was a place of grief and, eventually, healing." 
Read Amie Whittemore's interview here.
---
 2021 Spring Round-up
Check out these micro-reviews from contributors Audrey Gidman, Sunni Brown Wilkinson, and Tryphena Yeboah!
---
Territory of Enchantment: Review of Gillian Cummings's The Owl was a Baker's Daughter
"Gillian Cummings's second full-length collection, The Owl was a Baker's Daughter, is many things—beautiful and musical, tender and quietly daring—but perhaps its most dominant feature is that it is bewildering." 
Read Amie Whittemore's full review here.
---
His Chorus Gathers Itself: Review of Matt Morton's Improvisation without Accompaniment
"The back copy for Matt Morton's debut collection Improvisation without Accompaniment describes a book that traces 'the rhythms of life for a young man growing up in a small Texas town.' A reader might expect poems in this vein to tend toward the austere, sun-bleached, or washed out. Yet Morton has produced something different: more opulent, saturated, and crowded." 
Read Sam Ross's full review here.
---
2020 Fall Round-up
With the end of the fall 2020 semester near, check out these micro-reviews from contributors Carolyn Janecek, Jenna Le, and Raena Shirali!
---
From Catalog to Controversy: Review of Rick Barot's The Galleons
"The far points now near, more present than the present," Rick Barot writes in the opening poem ("The Grasshopper and The Cricket") of The Galleons, his fourth collection, ushering readers into a richly peopled and textured collection guided by a truly curious and insightful mind: what do history's galleons deliver to us? And what do we make of these all too often problematic gifts?
Read Amie Whittemore's full review here.
---
Every poem is arguably an ars poetica: Review of Joshua Jennifer Espinoza's I'm Alive. It Hurts. I Love It.
Every poem is arguably an ars poetica. In poetry, the speaker is trying to reach the emotional core and understanding of the subject(s) at hand. While the speaker embarks on this journey towards emotional clarity, the poem itself not only transforms in content, but it also transforms in definition. Poetry is constantly being reshaped, and the book-length long poem is perhaps the greatest display of this idea, as the reader is taken through countless transformations in lines.
Read Dorothy Chan's full review here.
---
Drifting Off Into Sun and Sparrows and Wind: Review of Kathleen Graber's The River Twice
Kathleen Graber's The River Twice is that rare book that makes me feel giddy even as it makes me weep—I want to soak in the poems as if in long baths, travel them as if they were rigorous hikes through undisturbed forests, bed down in their intricate nests. I want to walk up to strangers and say, you need to hear this poem (and this one and this one and oh wait I just read the book aloud to a dozen strangers). I want to review it so that you will read it and feel your own head drifting off into sun and sparrows and wind.
Read Amie Whittemore's full review here.
---
 New Life in the Midst of Necessary Decomposition: Review of Elizabeth Schmuhl's Premonitions
In Premonitions, Elizabeth Schmuhl not only arrives, but sojourns, seeking to become a physical fact of her own environment, and in turn to translate that environment for us in language both sparse and sumptuous. As she sinks into the isolation of a rural property far from human contact, her language assumes the frayed hemlines and feral tones of her setting. It is lush but lean, whimsical but unsentimental.
Read David Nilsen's full review here.
---
With the end of the fall 2019 semester closing in, check out these micro-reviews from contributors Nina Murray, David Nilsen, Ali Shapiro, and Shelley Wong!
---
 Injustices of the American Prison System: Review of Susannah Nevison's Lethal Theater
Lethal Theater, winner of The Journal's Charles B. Wheeler's Poetry Prize (Mad Creek Books, 2019) is Susannah Nevison's second poetry collection, and it's unflinchingly critical of the American prison system. Written in three parts—similar to the three-act style of a play, as well as the three drugs administered during an execution—the poems lead the reader through accounts of torture and experimentation on prison inmates, crescendoing with the botched execution of Claude Jones. In each section, the executioners have a role to play; the witnesses have a role to play; the condemned have a role to play, too. But putting on a good performance isn't the same as administering justice, and sometimes, the play goes off script: an execution goes awry, or the public learns of some behind-the-scenes "war game" they weren't meant to see. 
Read Marisa L. Manuel's full review here.
---
The Broad Scope of Contemporary Poetry: Review of Ashley M. Jones's dark / / thing and Julia Guez's In an Invisible Glass Case Which is Also A Frame
If one could choose their poetic parents, I'd want to be the lovechild of Elizabeth Bishop's acuity, Dean Young's irreverence, and Lucie Brock-Broido's bewildering lyrics. While I'll spend a lifetime trying to achieve that trifecta, I was fortunate enough to spend the last weeks of summer with two poets who speak to my capacious desire for clarity, humor, grit, allusion, and enigmatic leaps. In Ashley M. Jones's dark // thing and Julia Guez's In an Invisible Glass Case Which is Also A Frame, both poets are in conversation with the past and its complicated inheritances, with current sociocultural trends, as well as with the self as a site of discovery; yet, their explorations are structured in remarkably different ways, making the act of reading them together marvelously evocative.
Read Amie Whittemore's full review here.
---
A Soul-Satisfying Alternative: Review of Beth Ann Fennelly's Heating & Cooling
What's the proper literary form to capture the anecdote? Beth Ann Fennelly's newest collection, Heating & Cooling, makes the case that it is the micro-memoir—that is, the personal essay that ranges from a single line to about six pages. If the full-length memoir is akin to the studio portrait, this collection, which contains 52 literary anecdotes, offers something like a handful of skillfully rendered charcoal sketches.
Read Brenna Lemieux's full review here.
---
Carrying the Charms: Review of Ada Limón's The Carrying and Keetje Kuipers's All Its Charms
I have never wanted to be a mother and find little solace in the idea of setting up house with a domestic partner; yet, despite my psychic distance from the experiences of parenthood and partnership that ground Ada Limón's The Carrying and Keetje Kuipers's All Its Charms, I found both collections radically comforting as they situated domesticity, its pleasures and challenges, as feminist responses to the environmental and social threats that abound...
Read Amie's full review here.
---
2019 Spring Round-Up
With the end of the spring 2019 semester closing in, check out these micro-reviews from four different contributors!
Read Anne Barngrover's reviews of fiction and nonfiction by Marina Benjamin, Jill Kolongowski, and Vedran Husic here.
Read Donovan McAbee's review of Jane Kenyon's Otherwise here.
Read Carlina Duan's reviews of poetry by Aracelis Girmay, Cathy Park Hong, and Natalie Scenters-Zapico here.
Read Nina Murray's reviews of collections from Justin Boening and Rebecca Morgan Frank here.  
---
Kate Tufts Finalists & Winner Round-up
In many ways, these collections are also meditations on rendering visible the invisible parts of human experience. And, while each of these poets has a singular voice and vision, each of them renders grief, rage, and love visible through a mixture of deft lyricism, formal experimentation, and vulnerable narration.
---
Sarah Barber's Country House "taunts the reader's revelry"
Most of the subjects of Barber's poems are far from beautiful, however lovely the language in which they are rendered. Country House takes the pastoral form and shifts its gaze from the rocks and the rills to dumps and decay. The collection refuses the reader the escapist comforts of nature poetry, instead turning a soft light on what our modern ecosystem is comprised of: crumbling buildings, waste, industrial eyesores, and our engineered attempts to disguise it all as progress.
Read David Nilsen's full review here.
---
​Tiana Clark's poems in I Can't Talk About the Trees Without The Blood "witness and embody the past"
Tiana Clark's first full length collection, I Can't Talk About the Trees Without The Blood, is as much about race and gender (and how they intersect) as it is about the ways language intersects with race and racism, gender and sexism, self and others: "the most dangerous game, for me, is sex and syntax," Clark's speaker offers in "Rituals," and, perhaps, that is because they both give birth to us: we come from sex, but we are spoken into the world, shaped by how we name the world as much as by how it names us.
Read Amie's full review here.
---
Lisa Dordal's Mosaic of the Dark "arrives at peace and knowledge"
Like the houseflies in the book's final poem, whose "eyes—/their thousands and thousands of eyes—/make a mosaic of the dark," the speaker in this book beholds a soul—her own—that has spent long stretches of time unlit and fragmented. 
Read Nina Murray's full review here.
---
Austin Smith's Flyover Country employs "a nagging nostalgia"
Nostalgia is a risky muse—it would be easy to erase the "ag runoff" from those creeks, to see them as a child sees them—shining and sleepy. Smith, however, provides both sentiment and criticism in these narrative poems, investigating as much as cherishing "flyover country," a term which comes to encapsulate not only the Midwestern United States, but also other landscapes and lives, raising the question: can we really know that which we "flyover?
Read Amie's full review here.
---
As 2018 comes to an end, contributors Rochelle Hurt, Jenna Le, Brenna Lemieux, and David Nilsen provide thought-provoking micro reviews discussing diverse topics from motherhood to wartime and slavery.
---
In Chelsea Dingman's Thaw "intimacy is a wound and a salve at once"
...While it seems to draw from losses in Dingman's life—her father's death, for instance, is a central concern, as are the complexities of motherhood, daughterhood, and womanhood—these poems are far from confessional. Thaw's waters run both clear and murky. As she writes in "Little Hell," "I escaped / the snow, not its secrets" and these secrets are what drown Dingman's speakers as well as what gives them hope: intimacy, which is at the center of every secret, is a wound and a salve at once.
Read Amie's full review here.
---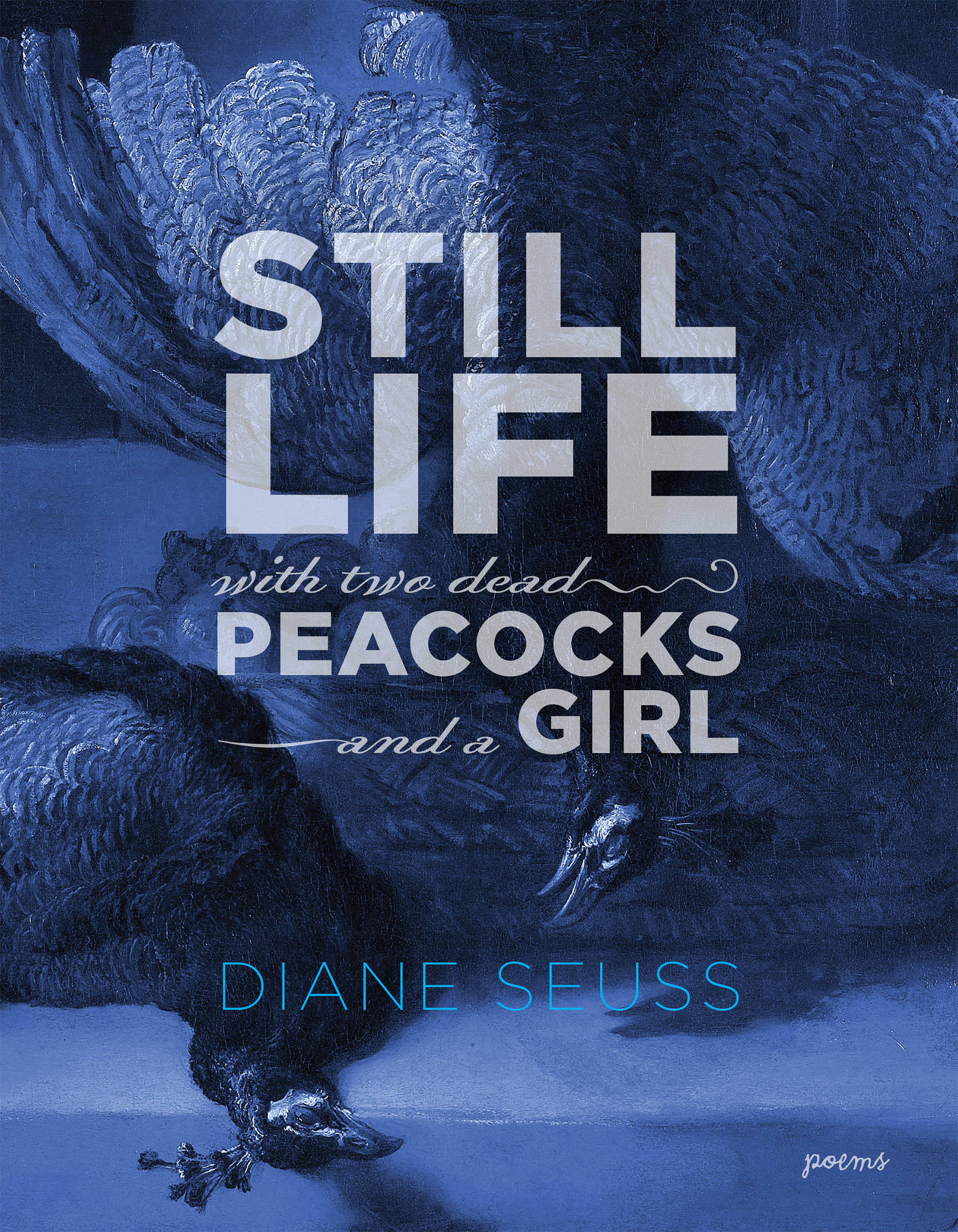 In Diane Seuss's Still Life with Two Dead Peacocks and a Girl "there is so much to see"
The title poem of Diane Seuss's 2018 collection Still Life with Two Dead Peacocks and a Girl examines the eponymous painting by Rembrandt, a puzzling composition that, in Seuss's hands, becomes compellingly complex. After fourteen lines of exploring the inner life of a small girl staring through a window at the titular fowl, the bait and switch of her life exemplified in these two dead birds in place of the pie Seuss imagines the girl had been hoping to find, we're elbowed in the ribs with this closing sentence: "Art, useless as tits on a boar."
Read David Nilsen's full review here.
---
Jos Charles's feeld "reveals familiarity is a con"
When I picked up Jos Charles's feeld, I knew nothing about it, aside from the praise for it wafting through the poetry internet. I turned to the first poem and said to myself, "Wait, is the whole book going to be like this?" "Like this" being a Chaucerian spelling of English (you'd think the title would have given me a clue, but reader, I'm often oblivious). However, I try to be game when a book invites me to confront my own limitations and privileges as a reader and a person, so I pushed through my discomfort. I'm glad I did.
Read Amie's full review here.
---
Analicia Sotelo's Virgin is "cheeky and tender, endearing but with teeth"
There's a special kind of pleasure that occurs when a "first" and a "best" coincide; a first-best taste of chai ice cream; a best-first date; rarely, though, is losing one's virginity a first that's also best. Still, I'm jealous of everyone who gets to read Virgin by Analicia Sotelo for the first time because this book is part-fire, part-labyrinth, part yolk spilling from its cage.
Read Amie's full review here.
---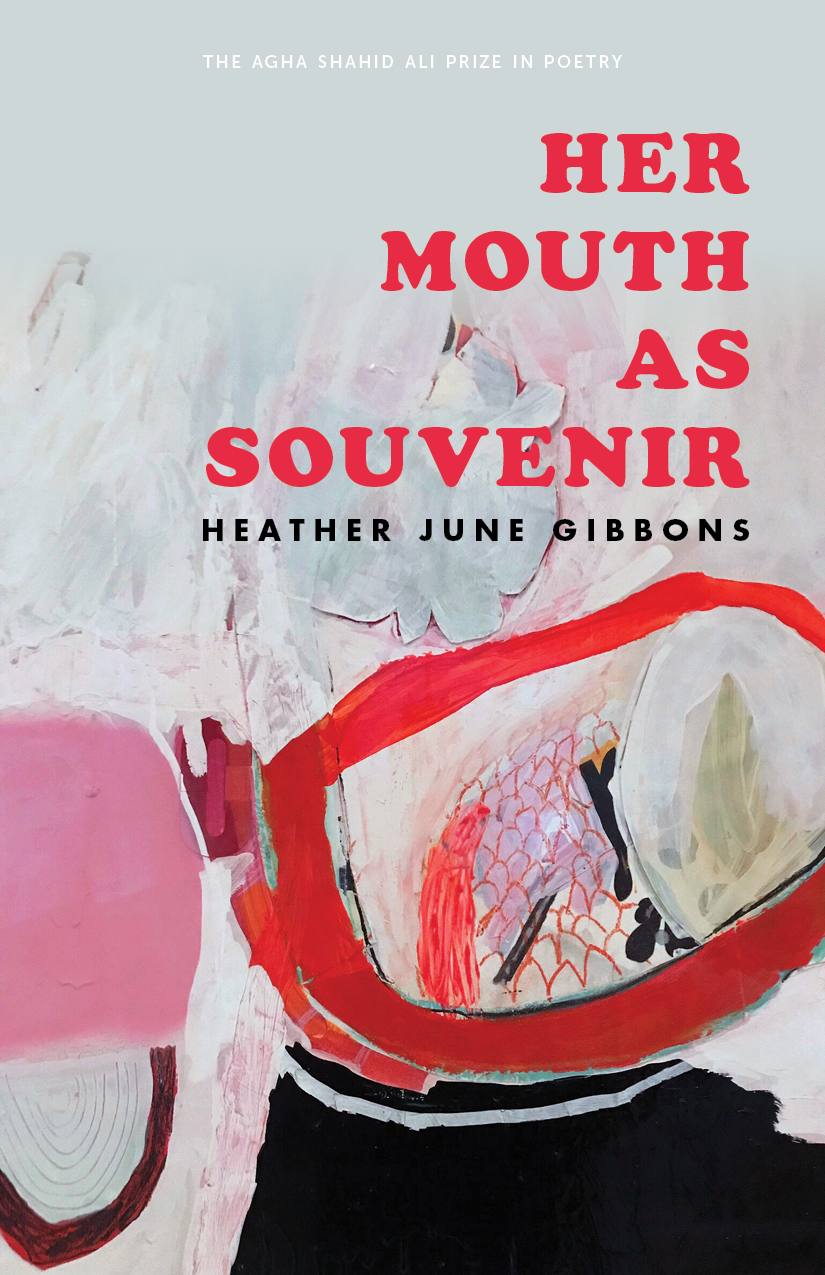 Heather June Gibbons achieves a "sudsy riot of language" in Her Mouth as Souvenir
Heather June Gibbons's Her Mouth as Souvenir dazzles. The poems practically vibrate off the page as they push forward to the next observation, the next joke, the next loneliness. Gibbons examines and exploits the way language heightens and complicates perception in these poems: they are at once absurd yet grounded, sincere yet gritty. They demonstrate how language muddles as much as clarifies reality.
Read Amie's full review here.
---
Aimee Nezhukumatathil encompasses "every shade of blue" in Oceanic
In Oceanic (Copper Canyon Press, 2018), her fourth poetry collection, Aimee Nezhukumatathil draws on the title word in a number of waves (pun intended): in one sense, these poems are oceanic, in that images borrowed from the sea's riches swim through them (the puns can't stop, won't stop): whale sharks, coral, penguins, kelp and scallops all inhabit these poems. It is the other sense of oceanic—that of vastness or greatness—that Nezhukumatathil probes and pushes in these poems: what is the seed of greatness? How can we make our hearts vaster?
Read Amie's full review here.
---
Amie Whittemore is the author of the poetry collection Glass Harvest (Autumn House Press). Her poems have won multiple awards, including a Dorothy Sargent Rosenberg Prize, and her poems and prose have appeared in The Gettysburg Review, Nashville Review, Smartish Pace, Pleiades, and elsewhere. She teaches English at Middle Tennessee State University.