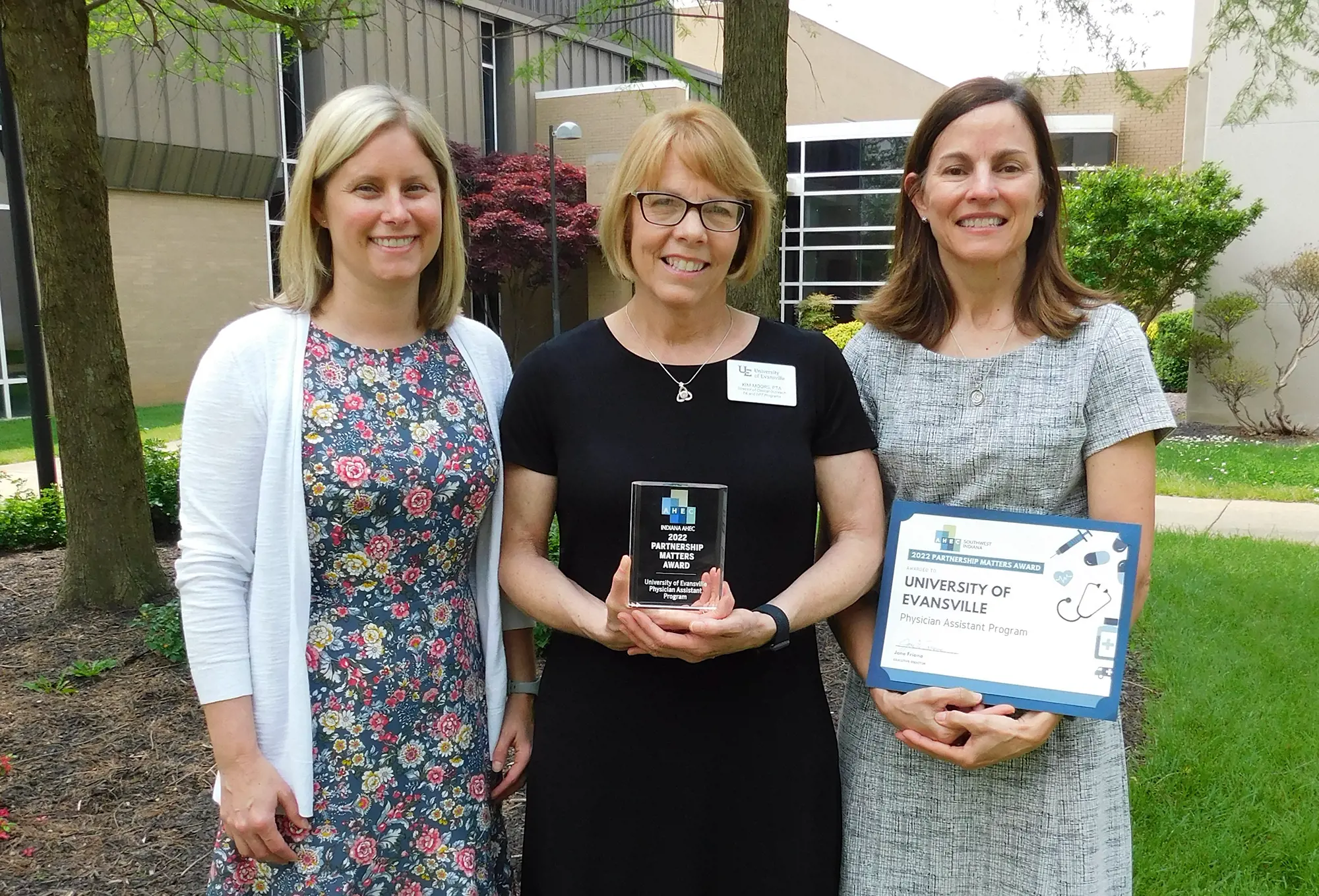 2022 Partnership Matters Award
Southwest Indiana AHEC's 2022 Partnership Matters Award is presented to the Physician Assistant (PA) Program at the University of Evansville. Since its inception in 2016, the UE PA Program has worked collaboratively with Southwest Indiana AHEC to empower students to "serve responsibly" and "live meaningfully."
According to Jane Friona, Executive Director of Southwest Indiana AHEC, UE faculty and leadership have assisted with recruiting AHEC Scholars, and 31 PA students have been (or are) involved in this community healthcare fellowship. "The PA Program prioritizes AHEC Scholars in rural and underserved family medicine rotations to help strengthen their intent and preparation for future practice in these communities," said Friona. "The clinical coordinators work very closely with AHEC to ensure the 'right' students are in the 'right' rotations for the benefit of both the student and the clinical site."
Friona said the PA Program staff have worked collaboratively on regional preceptor appreciation initiatives, as well as the regional clinical collaboration team. "Although the PA program is fairly new to the region, the program has recognized the need to work collaboratively with all of the regional healthcare facilities and educational institutions to help ensure preceptors and clinical sites are not overburdened with the need for additional clinical rotations," she said.
2022 Outstanding Preceptor Award
Southwest Indiana AHEC presented the 2022 Outstanding Preceptor Award to Jennifer Richardson, MD, of JLR Family Practice, Jasper, Indiana.
Dr. Richardson has been precepting Indiana University medical students during their third-year family medicine clerkships since 2016, and she typically precepts four to six students each academic year, according to Krista Kercher, Clinical Coordinator for Southwest Indiana AHEC.
"Dr. Richardson has committed herself, and her practice, to helping ensure a strong pipeline of future health professionals in southwest Indiana," said Kercher. "She has always been willing to accommodate schedule changes and assist with clinical rotations when other providers had conflicts or issues potentially impacting a student clinical rotation. That flexibility has been crucial to Southwest Indiana AHEC's success in coordinating these family medicine clerkships."
Past students have provided the following comments after their family medicine clerkships with Dr. Richardson:
"I enjoyed learning from Dr. Richardson! She truly cares about her students and goes above and beyond to make them feel at home. I appreciated all the extra time that put in to help me learn. There was a variety of medical conditions seen in her practice, which was a great learning opportunity."
"Dr. Richardson was a great preceptor. She took the time to discuss every case we saw that day and answered any questions I had."
Dr. Richardson graduated from University of California School of Medicine and completed her family medicine residency at St. Mary's Medical Center in Evansville, Indiana. She was appointed to the active medical staff at Memorial Hospital and Health Care Center in 1999, and she served as the medical staff president in 2018 and 2019.