---
Ornaments Available Monday November 27th!
---
College of Liberal Arts – College of Nursing and Health Professions – Pott College of Science, Engineering, and Education – Romain College of Business – USI Foundation – Registrar's Office – Rice Library
The Giving Trees are in place at the above locations and are decorated with gift request ornaments, including special requests for international students staying on campus over break. Staff Council invites you to please take an ornament or make a charitable gift to the Giving Tree to help brighten the winter holiday season for a USI family. After taking an ornament from a tree, purchase the requested item and wrap it. Attach the ornament securely to the wrapped gift and return to the office it was taken from by Friday, December 8, 2023.
Thank you for your support!
---
Your charitable gift to the Giving Tree can be made through the USI Foundation and will be used for the items requested in the Giving Tree program.
Make your gift online at Staff Council - Giving Tree (touchnet.net) or by check made payable to the USI Foundation by Friday, December 8, 2023.  
(Checks can be mailed to USI Foundation, 8600 University Blvd., Evansville, In 47712.)
---
About the Giving Tree
---
The Giving Tree is an outreach program sponsored by Staff Council that provides gifts to university employees and students with children who are in need of assistance during the holiday season.
During the Holiday Season (November -December) office locations on campus will host a tree where ornaments, representing families requesting assistance, can be selected with a gift wish on it for a child, youth or an adult. Early in November, an online application and paper forms will be made available for those who need assistance during the holiday season. Emails will be sent out announcing the beginning of the application process.
The Giving Tree originally began as an outreach of Student Affairs. While brainstorming at a Student Affairs Retreat, Dr. John Byrd, former vice president for Student Affairs, asked for ideas that their division could implement for the University community. Donna Moore, Chris Jines and Pam Hopson formed the idea of a giving tree for students and/or staff in need. Student Affairs agreed to purchase four artificial trees to be placed around campus.
Staff Council began sponsoring this yearly mission in 2001 and developed the criteria for eligibility. There were 34 individual people who received gifts the first year. Since its inception in 2001, an average of 20-25 families receive assistance each year, with over 60+ children receiving gifts of clothing and toys.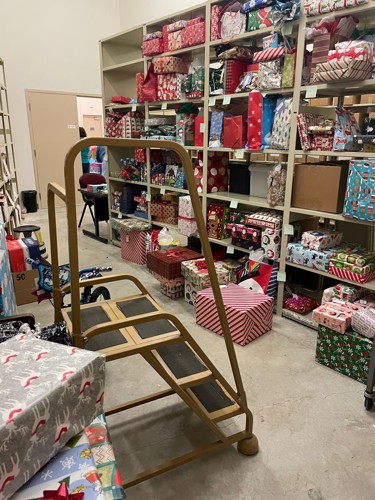 ---
Request Assistance
---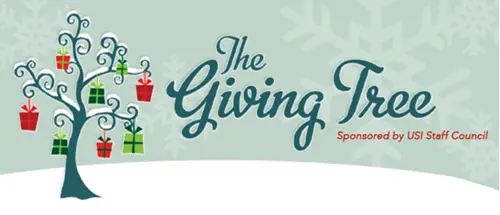 Does your family need assistance this holiday season? Or do you know a family with children who needs assistance?
USI Staff Council is again sponsoring The Giving Tree for 2023. 
**The application is closed.
Your application will be verified for eligibility by one representative from Staff Council and one representative from Human Resources.
Those that do not qualify include:
USI retirees.
We have a small number of applicants, so Current USI employees and/or students who have participated in the Giving Tree during the past two-year period will be considered for assistance.
Extended family members of employees or students, such as brothers, sisters, cousins, etc. This program is intended only for those residing within the same household of the current USI employee or student.
Each requested item will be limited in cost to $35.00 in order to provide assistance to as many people as possible during the holiday season.
Children 13 and under may receive:
A MAXIMUM of three choices of clothing.
A MAXIMUM of two toys (no electronics or video games).
Children AGES 14 to 18 may receive:
A MAXIMUM of two choices of clothing.
A MAXIMUM of one write-in item choice (no electronics or video games).
Each family may receive one $25 gift card.
Applications are due by November 17, 2023.  You may pick up gifts on Monday, December 18, 2023. If you have any questions concerning the application form, please contact Tiffany Porter (812) 464-1761 or Jennifer Day (812) 461-5370.