The student trustee, a voting member of the nine-member USI Board of Trustees, brings a student's perspective to the governing board. For more than 30 years, a student has served on the USI Board of Trustees. The first student trustee, Eric R. Williams '89, began his term on July 1, 1985.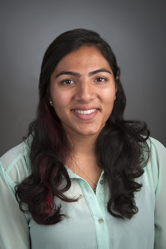 Anjali Patel '19

Indiana Governor Eric Holcomb has appointed Anjali Patel of Evansville, Indiana, to the University of Southern Indiana Board of Trustees. Effective July 1, she will serve as a student trustee for two years.
Patel, a junior, is a biology major and a Baccalaureate to Medical Doctor Scholar. She is a participant in the Honors Program, actively involved in the Pre-Professional Health Club and Timmy Global Health and maintains a 3.5 cumulative GPA. She works as a resident assistant for Housing and Resident Life and previously worked as an AMIGO. Patel is involved in Student Ambassadors, Southern Indiana Dance Marathon, the Student Alumni Association and Volunteer USI.
Patel said that she is eager to serve as a trustee "not only to represent USI's exceptional student body, but also to emphasize why USI is a place I am extremely thankful and proud to call home."
---
Evan K. Stieler '17
2015-2017
Brenden Davidson '15
2013-2015
Susan E. Ellsperman '13
2011-2013
Lauren K. Gilliam '11
2009-2011
Jamie L. Mull '09
2007-2009
Lauren C. Lutz '07, M'16
2005-2007
Samuel J. Tucker '05
2003-2005
Walter J. Jermakowicz III '03
2001-2003
Ryan A. Helzerman '01
1999-2001
Brian E. Pauley '00
1997-1999
Nicole L. Hume '97
1995-1997
Brent A. Auberry '95
1993-1995
Kristel M. Swan Griffin '93
1991-1993
Brad A Schepers '91
1989-1991
Patrick Leahy '91
1987-1989
Eric Williams '89
1985-1987